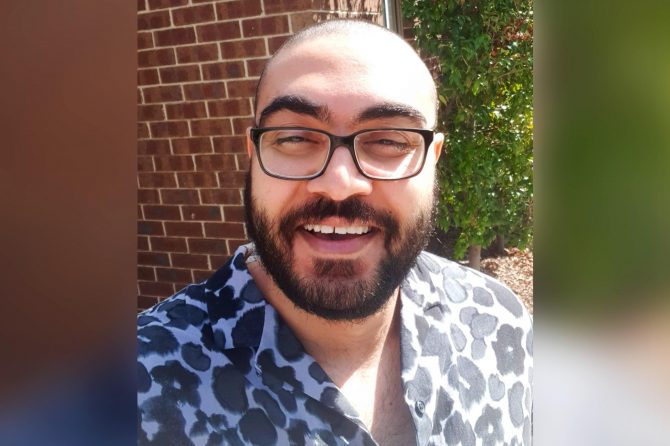 "Don't lower your dreams to the expectations of others" – Ben's story
"My father has a saying" explains Ben Mousavi, "he says: if in the way of reaching your goal, your eye stops you, take it out."

Like his father, Ben is the type of person who relishes a challenge. Which may explain how he has managed to graduate from university and build a new career in Australia despite the odds stacked against him. 
Eight years ago Ben left Iran, leaving behind his Father, his extended family and the life he'd always known. "The life of an immigrant is hard, but the life of an asylum seeker is even harder," says Ben. 
"You experience much hardship in your home country and then when you feel like you have been rescued or thrown a lifeline, the years in your new home are also extremely difficult. At times you lose your self-confidence. But the thing you learn as an asylum seeker is to never give up."
Ben didn't speak English when he first arrived in Australia, but he knew this would be the first step in chasing his dreams. After learning English he set his sights on another goal: "I had studied electrical engineering in Iran and I wanted to prove to myself that I could study here in Australia. But everyone around me told me I was stupid, that it's impossible." 
"When I came to the ASRC Education program, I explained to the advisor that I really want to study at university again. They helped me map out a plan. First, I needed to do a Certificate IV and so I did that through the Asylum Seeker Vocational Education Training (ASVET) program."

The next step for Ben was to enrol in university. But people seeking asylum are denied access to Government subsidies and income support that helps them pursue higher education, essentially denying him the opportunity for an education. Resourceful and resilient, Ben was determined to find an alternative path to achieve his dream to study again.
"With the support of the ASRC Education team, I successfully applied for a LaTrobe Scholarship to study a Bachelor of Business majoring in Financial Management. I was extremely grateful for the opportunity. I'm not sure if words can express how much a scholarship changes someone's life from the bottom to the top."

During Ben's final year of University as he was looking to make his next move, Ben successfully landed a job with the ASRC as part of the Victorian State Government's 'Working for Victoria' initiative. Ben is one of 105 people to be employed through the State Government-funded program which has provided meaningful employment opportunities to people seeking asylum during the pandemic and also increased the ASRC's capacity to respond to the heightened demand on our services.

The 6-month, fixed-term contracts are facilitated by the ASRC Employment Program and Ben has been employed as an Education project administrator to help other people seeking asylum find work during the pandemic. 
Next week Ben will take another leap towards his dreams; after three rounds of interviews, he has successfully landed a job at ANZ as a Banking Consultant. As he finishes up his contract at ASRC before moving on to his new position in the finance sector, Ben explains "I can always call this place home. I am thankful to belong to this community, and I have giant respect for the people at ASRC. Many of them have really gone above and beyond to guide and support me."
When asked if he had any advice for other people seeking asylum considering their education and career options, Ben replied: "Don't lower your dreams to the expectations of others."
Education and employment are critical in empowering people seeking asylum and increasing their potential to secure meaningful, long-term employment and achieve self-agency. Your donation to the ASRC can help fund the work of our Education and Employment programs and have a positive influence on the futures of people seeking asylum.
Leave a reply