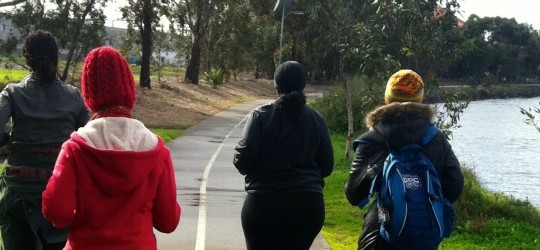 In 13 days we'll be hitting the streets of Melbourne to raise money for the ASRC as we Run 4 Refugees on Sunday, 18th October, as part of the Melbourne Marathon.
It's still not too late to register to attend the Marathon, and then join the Run 4 Refugees team. Make sure to jump on the Run 4 Refugees page to make a donation, or start your own fundaising page.
Along with Kon our CEO, staff and volunteers, the ASRC have a team of 15 asylum seeker members who will be running alongside us.
For them:
"Running is a sign of determination towards achieving a certain goal…
Running is the only thing you can think of when in danger…
Running gives us a sense of motivation of life even when life seems to be in danger…
Running is a sign of remembering those who are fleeing from persecution… Those who have been running for their lives, carrying their families along with them, running towards a hope, a future, and a safe space.
Kindly support people seeking asylum, supporting asylum seekers."
Help them reach their fundraising target of $3,000 by making a donation today at http://run4refugees15.gofundraise.com.au/page/thedoves
Leave a reply