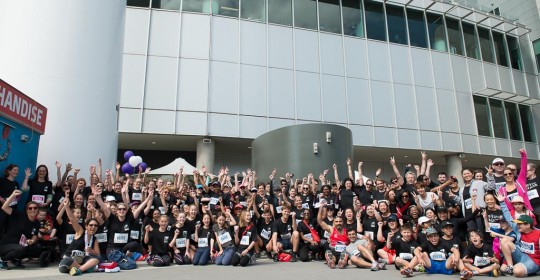 On Sunday 18 October over 600 of us took part in the Run 4 Refugees at the Melbourne Marathon. We not only stood up for justice but made a difference in the lives of people seeking asylum in Australia.
As we looked out into the sea of 'Real Australians Say Welcome' t-shirts designed specially by Peter Drew himself, the real stars of the day were the ASRC members who performed superbly in the marathon, with two members placing in the top 10.
There were 21 members in total who ran, including one man who sprinted the 5.7km distance with a prosthetic leg – it was the first time he ran with the new leg, and next year hopes to do 10km. Another equally amazing feat came from a youth member who ran the marathon, then went straight to the RMF Community Cup day to play in the ASRC soccer team.
We'd like to acknowledge our awesome fundraising teams – a big shout out goes to Chony's Food and Aid Dream Team who have raised the most with over $18,419! A special mention to our kids' teams too – Kids Running for Refugees have raised almost $6000 and ASRC's youngest Ambassador, Taj and his Refugee Rockets raised over $1000. Unsurprisingly our top fundraiser is… Kon our CEO with almost $8000!
Well done to ASRC Staff's team total of $73,861 raised for this event which is around one third of the $265,000 total so far. We're hoping to hit the $300,000 mark. It's still not too late to make a donation to Run 4 Refugees to help us reach our goal.
You can see more highlights and images from the day on #run4refugees
A big thank you to Tim Turner and James L00 who provided the photography on the day.
Leave a reply