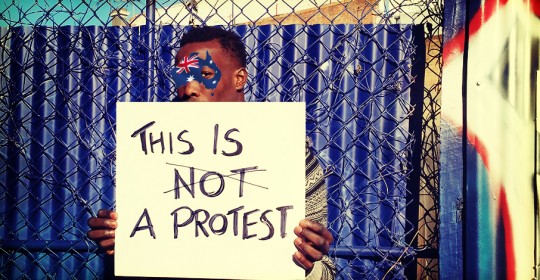 After six months of conversations, rehearsals, story-telling, and planning meetings over lunch at the ASRC, the ASRC Theatre Art Group is thrilled to launch its major performance, This is NOT a Protest at the BIG WEST Festival in Footscray, featuring people seeking asylum as co-creators and performers.
This is a protest, that is not a protest, where the audience is given numbers to join the queue, and are lead by procession through the streets of Footscray to the 'House'. The wheel spins, the lottery begins, we enter the rooms and wait, our identity and future at stake, who gets to stay, who has to go, the house will decide.
With asylum seeker protagonists as the interviewers and the audience as claimants, we invite you to come laugh, cry, commemorate and celebrate as the great un-Australian story unfolds.
This is NØT a Protest is a free event, so everyone and anyone is welcome (which is how it should be). Bookings are not essential but you should arrive on time to secure your place.
Date: Saturday 21st November
Assembly Point: Corner or Nicholson and Irving St's, Footscray
Assembly Time: 1:45pm
Strict Departure time: 1:55pm
Arrival at Big West House: 2pm
For more information email arts@asrc.org.au or call (03) 9326 6066 or www.bigwest.com.au
_____________________________________________________________________________
Assistant Artistic Director: Yomal Rajasinghe
Creative Collaborator/Actor: Lauren Smith
Production Manager: Tanya Ngerengere
Leave a reply