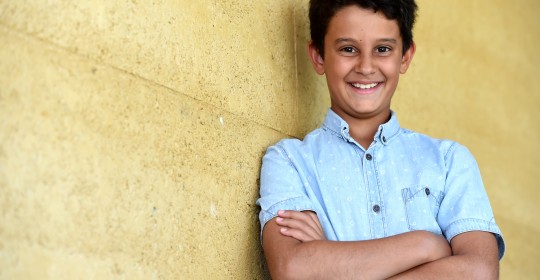 Our team worked incredibly hard throughout 2015, so it is extremely heartwarming when this work is recognised and celebrated. The ASRC has started the year with a lot of pats on back.
Darebin Young Citizen of the Year
Our incredible Young Ambassador, Taj Lingam, was awarded Darebin Young Citizen of the Year in recognition of his amazing food drives and fundraising efforts for the ASRC. Taj began supporting the ASRC in 2014, when he and his brother Sage built a bike trailer to collect food donations for ASRC's Foodbank. At the time Taj was just 10 years old.
He followed this inspired effort with hosting a film night and leading a team of young runners in 2015 Run for Refugees  to raise money for the ASRC. Late last year, he organised another food collection on his bicycle for ASRC Foodbank and delivered anothr bumper crop in time for Christmas.
"I am really proud to receive this award and really honoured that the community has supported me in my efforts," said Taj upon receiving his award.
We are extremely proud of Taj as he shows amazing leadership, compassion and motivation to inspire more young people to help support, protect, and empower people seeking asylum. Well done Taj!
Maribyrnong Civic Awards
We are also proud to have received 2 Civic Awards in our home town of Maribyrnong, be awarded the "Community Strengthening Award" and Kon got "Citizen of the Year" on 26 January.
Since returning to Footscray in May 2014, we have been very proud of our strong and supportive relationship with the local council. Maribyrnong City Council shares a strong commitment to diversity and multiculturalism and in creating a welcome to the newest members of our community.
These awards make us proud to be part of the Maribyrnong community.
Picture: Kylie Else
Leave a reply