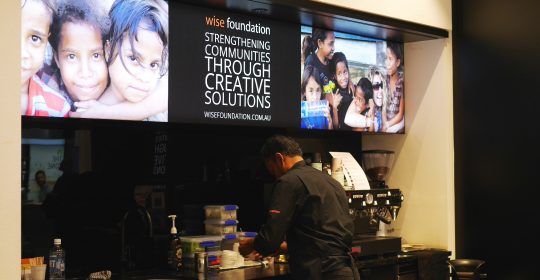 Ahmer* is used to coffee laced with condensed milk. He worked for seven years making coffee that way.
Ahmer is a Burmese Muslim. After he was persecuted in his homeland, he fled for Malaysia. The cloying brew was popular in his new home.
But, after again being persecuted because of his ethnicity, he fled to Australia, where he is now seeking asylum.
Ahmer is still making coffee. It is, however, a bit more complicated than it was in Malaysia.
When I visit Ahmer, he is toiling behind a sparkling La Marzocca espresso machine, and churning out orders for perhaps the most discerning coffee drinkers in the world – inner-city Melburnians.
"Coffee is with condensed milk in Malaysia and I worked as a waiter and made it for seven years," Ahmer said.
"But it is very different here. Not only the coffee but I could not speak English.
"Now, I am confident and I am fast."
He is a participant in the Wise Foundation's Wise Barista Program, which provides training and short term employment for people seeking asylum.
Founded in November 2015, the Melbourne program is sponsored by Telstra, and has been completed by nine people seeking asylum, with six gaining ongoing employment since exiting the program.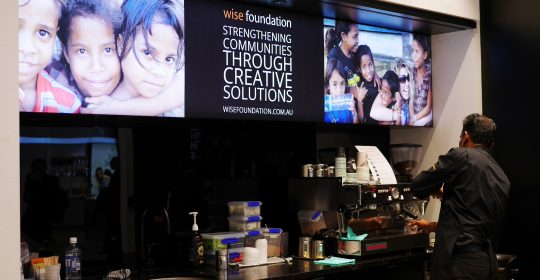 Two of the nine participants, Ahmer and another person seeking asylum, are currently completing the program.
Participants work at the Telstra Discovery Store on the corner of Bourke and Swanston Streets making complimentary coffee for customers.
Wise Foundation Social Enterprise manager Jasmina Marjanovic said that in the early days of the program she was concerned. "We had everything from milk explosions to burnt coffee and we were thinking 'training of the participants might take a bit longer than we thought'," she said.
"But within two weeks the participants were not only really getting the hang of making coffees but had so much more confidence in their language skills.
"We had one participant who had been quite shy at the start. After working with the Wise Foundation for a short period of time, I asked him to do something that I thought may be outside of his comfort zone. To my surprise, he responded perfectly with 'no worries'."
It is not just participants that are learning, however.
Ms Marjanovic said it was clear customers also gained a far greater understanding about refugees and asylum seekers, and were keen to speak to the budding baristas about their lives.
Ahmer is not the only participant used to a different coffee culture. Some of the participants from an African background are used to coffee being served by those wearing traditional clothing.
Ahmer has noticed a vast improvement in his English skills, and has even mastered the definitions of some unusual coffee orders, including a piccolo and a magic (apparently a three-quarter flat white).
"When I first came to Australia I can't speak English and I am worried about being thought of as 'illegal'," he said.
"But we can communicate with people much better now and I can see Australia is so multicultural as well."
Leave a reply