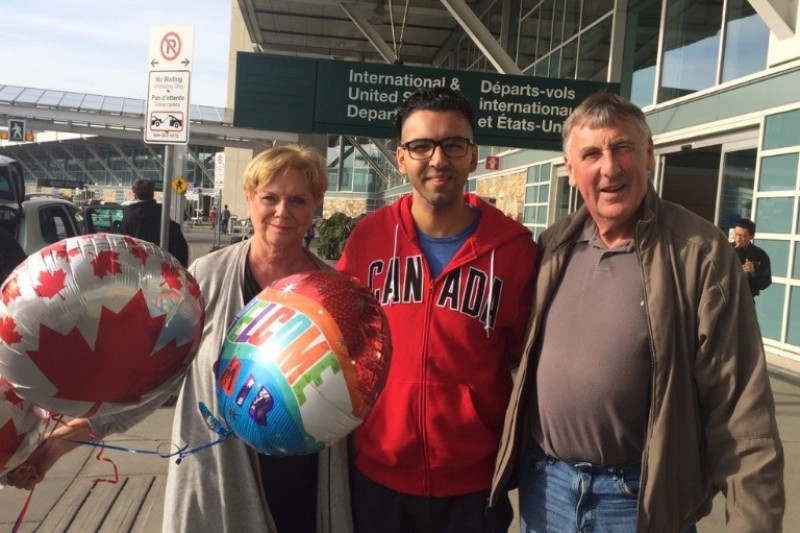 As the humanitarian crisis on Manus Island escalates, Australians and the broader global community are coming to the aid of the innocent men trapped inside the centre.
Last week as Immigration Minister Peter Dutton ordered food, clean water, electricity and medicines be cut off from those inside the Australian funded and staffed Manus centre, a 24 year old man from Iran, Amir Taghinia, detained there for over 4 years, was flown out to safety to Canada.
Amir Taghinia arrived in Canada sponsored through the good will of an Australian worker he had met inside the centre and her parents, who have agreed to look after him for one year in Canada under that country's generous private sponsorship of refugees program.
Amir said "I am glad some good people of Canada have brought me to safety, but my heart aches for the many brothers I have left behind in the absolute hell that is Manus Island."
"That ordinary citizens can bring me to safety, with their meagre resources, shines a light on the shameful practices of this government in keeping these other innocent men trapped in such a terrible situation."
"There are clearly many options the Australian Government has to resettle my friends on Manus, it is inhuman that the Australian Government would not take action to give them safety".
Yesterday, despite repeated calls from the UN, international observers and growing numbers of Australians to end the crisis, Prime Minister Turnbull refused efforts to secure the safety of the men inside the Manus centre by again knocking back New Zealand's offer of refugee resettlement.
Waiting for the US to resettle refugees is entirely unnecessary and delays a humane solution for the men who are in a crisis situation.
The Australian government's permission to resettle one man from Manus to Canada last week is clear evidence of this.
As a refugee, Amir Taghinia was detained on Manus Island and PNG until Thursday last week, when he arrived as a new Canadian in Coquitlam, Canada to the welcoming home of Australian citizen Wayne Taylor his wife Linda Taylor.
The daughter of the Taylors, Chelsea who lives in Melbourne, had met Amir while working to provide healthcare on Manus a few years ago. Over a period of 22 months, Chelsea and her family worked with the Canadian government and Australian authorities to facilitate Amir's resettlement.
Amir was sponsored by the Taylor family and group of Coquitlam residents who helped raise the money to get him to Canada. The Australian government allowed them to do so, a precedent it could and should extend to those suffering on Manus and Nauru.
While Amir may have escaped a desperate situation, he can't stop worrying about friends in the "absolute hell" he left behind. Amir wants his "miracle" to be extended to others in the same situation on Manus.
Director of Advocacy and Campaigns at the Asylum Seeker Resource Centre, Jana Favero said "Amir's Canadian sponsorship demonstrates clearly that it is entirely possible for third countries to step in and provide a workable solution to the current crisis on Manus".
"The Turnbull government must get out of the way. Allow food, water and power to be restored. Allow medical services in and then allow third countries to take the refugees, where they will be welcomed to a new life" Jana said.
Communications Director at the Refugee Council of Australia Tim O'Connor said "the Australian Prime Minister is playing games with peoples lives".
Prime Minister Turnbull is saying "we don't want these refugees, but you can't have them either".
It's an absolutely bizarre situation Prime Minister Turnbull has got himself into.
"New Zealand is prepared to take Australia's refugees from Manus, caring members of the Australian community are putting their hand up, even people in Canada have gone to great lengths to ensure the safety of people whose lives are in jeopardy. Prime Minister Turnbull should be putting human lives in front of short term political point scoring".
The Australian public has also shown its care and compassion for those trapped on Manus with tens of thousands of dollars raised to directly support them through social media and online.
Leave a reply