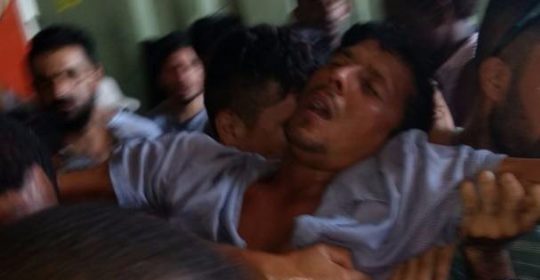 The Asylum Seeker Resource Centre (ASRC) is deeply disturbed at the violent forced removal of men inside Manus Regional Processing Centre (RPC) this morning by Papua New Guinea (PNG) police and Australian Federal Police.
The violent forced removal of peaceful refugees demonstrates that refugees and people seeking asylum are unsafe and at grave risk of harm in PNG and must be evacuated now to Australia to protect their human rights.
Statement from Behrouz Boochani:
Around 6:30am this morning many police mobile squad and immigration officers came inside the prison camp.
They started shouting at us to leave. Hundreds of the refugees gathered in Delta compound and some climbed on the roof. An Australian Federal Police officer was guiding more than 50 PNG police, who shouted at people over a microphone "Move, move".
Immigration threatened the refugees who were on the roof to come down and hand over their phones.
They were very angry and shouting at the refugees to deliver their phones.
The refugees were extremely scared and some were crying, but sitting peacefully and otherwise completely silent. Immigration and police kept ramping up the tension, shouting and searching the rooms and saying "Move, move, you only have an hour to move."
Police and immigration were very aggressive and some of them were swearing at the refugees. More police spread through the prison camp and around the prison, with Navy officers outside.
Those inside started to break the shelters and water tanks shouting "move, move", taking people's phones and searching rooms, taking the refugees there out by force.
They destroyed everything. Shelters, tanks, beds and all of our belongings.
They are still here and very aggressive. They've put our belongings in the rubbish bins. The refugees are so scared and have remained peaceful but begun chanting 'Freedom! Freedom'.
To join our powerful community movement to #EvacuateNow, click here.
Leave a reply