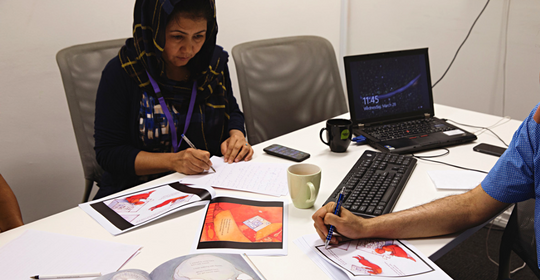 Zakia's face lights up in front of me as I ask her if she's enjoyed the translation workshops she's just wrapped up at the Asylum Seeker Resource Centre (ASRC).
'From the past I like translating. Interpreting for me was like a dream to be a translator or an interpreter, so when I saw the email invitation, I thought this is my favourite part!'
Now an Australian permanent resident, Zakia left Afghanistan three years ago to be reunited with her husband here in Australia. Fleeing Afghanistan to save his life, Zaika's husband spent five years in Papua New Guinea before arriving in Australia in 2013. The couple and their children were reunited in 2015 when Zakia was granted a sponsorship visa.
Today she is taking part in a project to translate a beautiful Australian children's book titled My Two Blankets into her home language of Dari.
The innovative project is a partnership between the ASRC and the publisher, Hardie Grant Egmont, to create three bilingual versions of My Two Blankets in Arabic, Farsi and Dari, the three most common languages spoken by members at the ASRC.
With a goal to bring community together to celebrate creativity and language, the project aims to not only provide an opportunity for people seeking asylum to experience and learn skills in translation, but to also contribute to creating literary works for their own communities.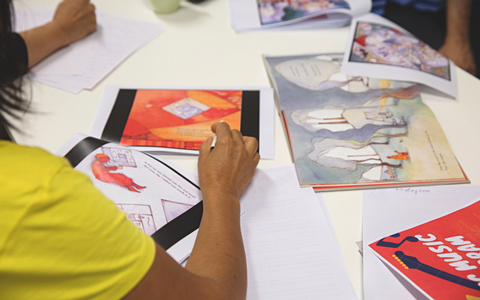 For Zaika, the benefits are endless. As a community language teacher, Zakia's passion is words. As a member of both the ASRC the Afghani community, her heart lies with preserving her language and ensuring her children grow up with the beauty of being bilingual.
'They will be very useful to be used as a tool for reading in language schools, as resources are very limited for our community children. It is obvious that they love English and time pass by they will no longer be able to talk their mother language, while language is considered as a precious part of culture and heritage from past generations'
'We belong to a war-torn country which many people scrambles for their live. Government involved with political issues and corruption, insecure situation and many more issues have come together which prevent authorities from thinking about the educational resources and children are forgotten to be an important part of the society and future.'
Project coordinator, Kirsty Sword-Gusmao explains 'It's really important for our members, not only through their association with ASRC to learn English, but to also value their home language and ensure their children are becoming literate in both English and their language of the home.'
'We thought it would be a lovely idea with the help of our members to translate a work of children's literature, and to then promote that resulting book amongst our members and maybe run some workshops with them about the importance of home language maintenance'.
The book itself is a portrayal of the hardship of displacement. Written by Australian author, Irena Kobald and illustrated by Freya Blackwood, the book follows the story of a child who finds themselves scared and isolated in a foreign country.
Without the safety blanket of their mother tongue the child feels lost and confused, and the story shows how through making friends, and learning new words in a new language the child slowly crafts a new, second safety blanket and starts to feel included and safe in his new home.
Kristy explains 'The subject matter is one we thought would resonate with our members, it's about tolerance, acceptance, moving to a new home, to a new culture.'
And it's a thought that was most definitely on point, as Zakia passionately expresses the opportunity for her community to connect with this book is unique.
'The story, it is a good story especially for refugees, it is exactly the same situation as us refugees when we come to Australia, so it is like that. We have been in this situation, so we understand. It is a good choice. And the paper, the quality of the book, it makes an impact on children, on people. It's important.'
The project including the translation workshops has been supported through a grant from the Readings Foundation this year, and the team are hoping this is the start of a sustainable literary initiative.
The book is set to be published in October, and will be available at all good book shops. Kirsty is excited to see the book embraced, and is hopeful for future projects.
'If the books sell as we hope and with the ongoing support of Hardie Grant Egmont, we'll look to repeat the project with a new book next year'.
Zakia's letter of thanks
In a truly generous and touching gesture, Zakia wrote a letter of thanks to the ASRC, requesting it to be including in this story. Her beautiful words read:
I would like to start with a heartily thanks to the author of "My two blankets" that beautifully has depicted not only the situation of a child who comes to seek a safe place to live, but also many adults who put their live in danger to survive their family from a hard situation. Thanks from all who have taken this initiative step. Having the translation of this book in other languages will be another privilege to keep that language as a heritage and part of culture also a small help to ASRC to support the asylum seekers. Also want to give a big thank to all ASRC members who do a great job by welcoming all the asylum seekers regardless of their age, gender, ethnicity and religion,  that's really appreciable. Unfortunately I can't find any words to express my especial thanks to those who support ASRC and donate generously. It would not be an exaggeration if I agonize them to God, as they give without any expectation. They have made ASRC as a part of heaven and volunteers are like angels, working without feeling tired with smiling faces, they all make a hierarchy of humanitarian which give a warm feeling inside of every asylum seeker.

GOD BLESS YOU ALL!

Zakia
To support the initiative sign up to the ASRC newsletter to find out when the book is available.
Leave a reply