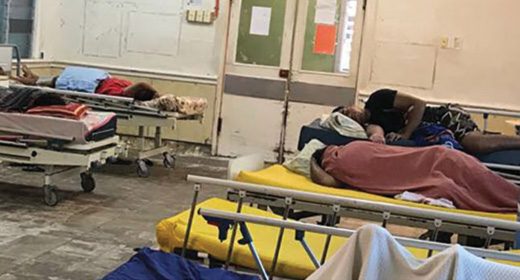 The Australian Government's prolonged inaction, victim blaming and denial of the seriousness of mental health is directly responsible for the worsening medical crisis engulfing men, women and children seeking asylum on Nauru.
The Asylum Seeker Resource Centre (ASRC) can confirm that the ambulance service on Nauru is refusing to respond to calls until they receive approval from Nauru government. And that on some occasions police are taking suicidal people to jail, not hospital.
Today, Executive Director of Médecins Sans Frontières Paul McPhun and doctors Beth O'Connor and Christine Rufener exposed the severity of mental health deterioration of people seeking asylum on Nauru, due to the length of time they have been held there and the dire lack of mental health care to keep them alive.
The ASRC has also documented escalating depression, anxiety and PTSD leading to significant and chronic self harm and suicidality in our clients on Nauru. We have a waiting list of over 85 people on Nauru needing case management urgently.
The Morrison Government's offshore processing policy failure is the cause of the crisis that has escalated in past months.
MSF doctors and the ASRC observed mental health deterioration in people immediately after the failed 'U.S deal' not accepting them for resettlement.
Detention Advocacy Manager, Natasha Blucher said "denying health care and criminalising people suffering from severe mental health conditions exemplify the Australian government's escalating dehumanisation of people seeking asylum and reckless disregard for mental health."
"The sudden loss of MSF services to our clients means there is now extremely limited treatment for self-harm and suicidality. We are aware of over 100 people who are at a greater risk of dying from mental health conditions."
"There are instances of police being sent instead of ambulances when people have self-harmed. Disturbingly, we are hearing reports of people being held at the police station after self harming, even with significant injuries," Natasha said.
Director of Advocacy and Campaigns, Jana Favero said "Prime Minister Scott Morrison and Minister Peter Dutton are directly responsible for the current situation on Nauru and must be held accountable for their cruelty."
"The Morrison Government has the power to evacuate all children and their families off Nauru for medical treatment and assessment, and need to answer for why they are ignoring Doctor's orders," Jana said.
Leave a reply