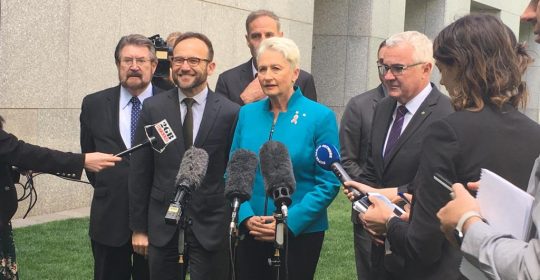 The Kids Off Nauru campaign coalition welcomes the Urgent Medical Treatment Bill being introduced into Parliament by Independent MP for Wentworth Dr Kerryn Phelps.
Dr Phelps announced in a press conference today that the bill will be introduced into the Lower House next week.
The Bill is backed by a 'coalition of conscience' made up of cross party MPs Dr Kerryn Phelps, Derryn Hinch, Andrew Wilkie, Adam Bandt, Nick Mckim, Rebekha Sharkie and Tim Storer.
The Urgent Medical Treatment Bill will change the Migration Act to provide for urgent medical transfers to Australia for critically ill men, women and children remaining in offshore detention to save their lives.
Asylum Seeker Resource Centre advocacy and campaigns director Jana Favero said nobody wants to see critically ill people, particularly children deteriorate because they don't have proper medical treatment, no matter what their views are on offshore processing.
"Clinical recommendations by doctors, not politics, should determine access to medical care."
"It is vital that the Australian Parliament backs this bill to solve the medical crisis in offshore processing centres, before another life is lost due to medical neglect.
"We applaud the coalition of MPs behind this bill for their courage of conviction."
"Momentum for the Urgent Medical Treatment bill is increasing and we urge LNP and ALP politicians to back the bill when it comes before the House on Monday."
The ASRC is part of the Kids Off Nauru coalition of major humanitarian and refugee sector organisations united to end the medical crisis caused by politically-driven indefinite offshore detention policies that make people sick.
Three months ago, the campaign set a deadline for the government to get children and their families medically transferred to Australia by Universal Children's Day, November 20. And to urge the government to find safe, permanent homes for people in Australia or in a third suitable country.
A petition carrying more than 170,000 signatures supporting the Kids Off Nauru call was presented to the Prime Minister Scott Morrison and Opposition Leader Bill Shorten on Tuesday and accepted by MPs Kerryn Phelps and others on Parliament House Lawns.
Leave a reply