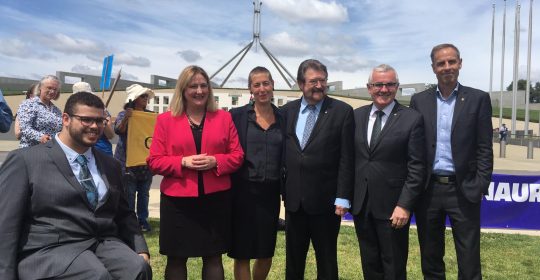 The ASRC along with 400 organisations, 6000 doctors, ten of thousands of people in Australia and a majority of our political leaders want to solve the medical crisis on Manus and Nauru today.
Today, the Home Affairs Legislation Amendment (Miscellaneous Measures) Bill 2018 is our one chance to take the politics out of access to medical treatment and allow Australian doctors to provide care to sick refugees.
Yet the government is using dirty tactics to delay and deny the passing of the Bill through the Senate and lower house.
The Prime Minister this morning said he has gotten 100 children of Nauru this year, yet the Home Affairs department, in roughly the same time, has spent $480,000 in legal costs to oppose medical transfers to Australia.
The Prime Minister is using sick people to attack Labor and the Greens and is lying to Australians when saying that providing medical treatment will affect our national security.
The ASRC is thankful for the leadership and political courage of the Australian Labor Party, the Greens and Cross Bench MPs working together to end the poisonous political agenda of the Coalition in preventing critically sick people from getting the treatment they need to save their lives.
Everyday people do not want another death in offshore processing due to medical neglect. We want our political leaders to show leadership and protect people, not use them to fight and attack each other.
The ASRC is working with over 50 people whose lives are at imminent risk due to critical medical and mental health issues. We urge the government to transfer these people and all others who are critically ill immediately.
Director of Advocacy and Campaigns, Jana Favero said: "This Bill strikes a fair balance between critical medical need while enabling fair and reasonable checks and balances about security"
"Any Ministerial oversight for doctors recommendations for transfer is appealable, reviewable, transparent and quantifiable and will require evidence."
"Bipartisan support for the amendments is a huge achievement and demonstrates a significant
political shift in Australia."
"Today politicians are showing leadership by putting humanitarian and medical need over political games. The Government must listen." Jana said.
CEO Kon Karapanagiotidis said: "This is a red letter day for the the critically ill refugees and asylum seekers on Manus and Nauru."
"Finally they will get the medical and psychiatric assessment and treatment that they need after 5 years of unconscionable medical neglect."
"This bill will save the lives of many, protect children and families from further harm, stop suicides and demonstrate that in our halls of Parliament we can come together with a bipartisan spirit and do what is morally right and humane," Kon said.
Leave a reply