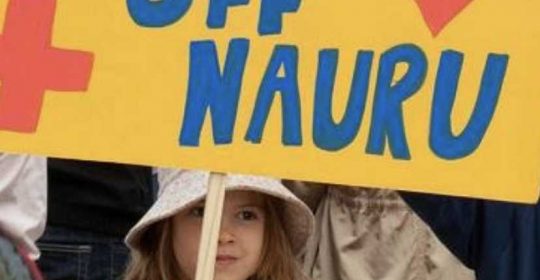 This week the last child requiring medical transfer was evacuated to Australia for urgent medical care.
Lawyers, doctors and caseworkers welcomed the news that all of the critically sick children detained by the Australian government on Nauru were now receiving the medical care they need in Australia and the remaining children would be resettled in the US.
However the medical crisis in offshore processing is ongoing for the remaining men and women on Manus Island and Nauru, with doctors warning that another life will be lost without appropriate medical care.
The Human Rights Law Centre, together with the National Justice Project, a coalition of pro bono lawyers and case workers at the Asylum Seeker Resource Centre have continued to run legal challenges or threaten legal action in the Federal Court to evacuate children, men and women to receive urgent life-saving medical care. At least 92 children required legal intervention.
In just six months, the group has secured urgent transfers to Australia for over 260 people, including children needing life-saving medical treatment. The group have won every case filed in the Federal Court with doctors' recommendations for medical transfers being carried out.
Jana Favero, Director of Advocacy and Campaigns, with the Asylum Seeker Resource Centre, said: "Don't be fooled by any Government claims that they have done this – all those working closely with sick children on Nauru know the only reason they're receiving appropriate care is thanks to the dedication of doctors, lawyers and caseworkers."
"Now that children that were held on Nauru are receiving proper medical treatment in Australia, the Government must get out of the way and let doctors provide urgent medical treatment for the complex and life threatening medical conditions suffered by men and women in offshore processing. "
George Newhouse, Managing Director of the National Justice Project said: "From our first case, back in 2016, the Minister fought us every step of the way. But the courts always gave us what we asked for because the evidence was so clear. The Minister drove children to psychosis, attempt suicide or to completely give up on life. Across the sector, we worked together to stop him. This week we won."
David Burke, Senior Lawyer with the Human Rights Law Centre, said: "In public the Government will call this a win and boast about evacuating this last child for urgent medical care but behind the scenes we have had to fight in the courts or threaten legal action to evacuate every single one of these sick children and their families."
"The reality is it's been almost six long years of misery and suffering. And now we have a medical crisis. This dark chapter in our national history does not close until every person, every man and every woman on Manus and Nauru is finally rebuilding their lives in freedom and safety."
Leave a reply