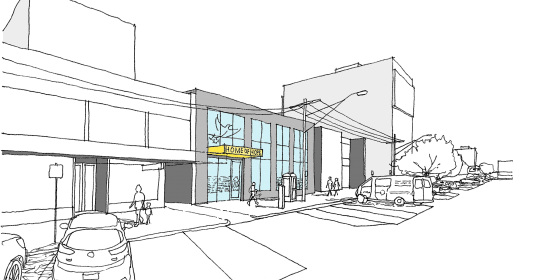 Building a new hope in Melbourne's South-East
The Asylum Seeker Resource Centre (ASRC) began as a response to a growing need in the community.
All those years ago when families seeking asylum first started coming to us for help, our community of compassion rallied together to provide people with the things they needed most. And as peoples' needs continued to increase in complexity over the years, so too did the ASRC's services. 
Today our centre in Footscray supports more than 6,000 people each year. We provide help with the basics like food, healthcare, housing and legal support and our education, empowerment and employment services help people to live independently and thrive in the community.
But the greatest population of people seeking asylum in Victoria are now living in Dandenong.
So in 2018, we commissioned an independent study to better understand the growing critical and unmet needs of the community living in the South-East region. What became clear was the community needed a local, centralised place where people could access a range of services under the one roof. But more than this, people needed a welcoming place where they could connect and support one another.
That's why the ASRC is building a new Hub in the heart of Dandenong – to better support and empower people seeking asylum in the South-East.
This new Hub is our most ambitious project to date. Partnering with sector-leading building groups and collaborating with other service delivery organisations, together we are building a purpose-designed space that will provide access to all the services people seeking asylum have told us they need most, in a single location. 
One of the greatest advantages of the new Hub is that "Now people are not going to get bounced around from service to service", says Sean Quigley from our Hub housing partners WAYSS Housing Dandenong.
The new ASRC Dandenong Hub will not only provide essential support services but an important space for learning, empowerment, volunteering, and advocacy. It will be a meeting point for people to connect with each other and spend time in a space that feels welcoming and supportive.
With your support, the new Hub will open its doors early next year in our 20th year of operation and transform the lives of thousands living in Melbourne's South-East. 
"It will not only bring services to where people need it, but it will create a home for them. A place where I know humanity is responding to give people seeking asylum dignity, respect and the opportunities they deserve." – Abiola Ajetomobi, Director – ASRC Innovation Hub.
But your support is critical to the completion of this project and will ensure people seeking asylum have the dignity, respect and vital services they need to live independently and realise their dreams.
Hope for a better future begins with you. Please donate today.
Leave a reply