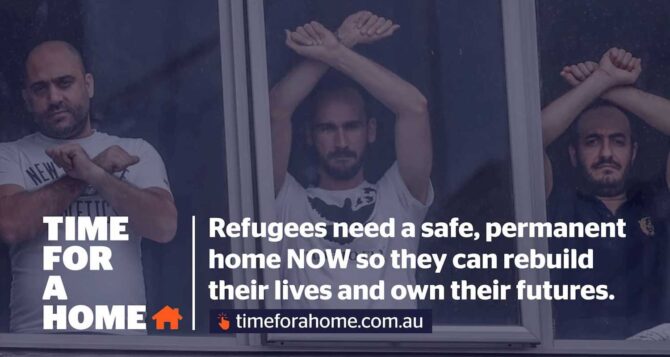 Media Release
5 November 2020
A coalition of 60 grassroots networks, legal, medical, community and human rights organisations are calling on the Morrison Government to release and resettle people seeking asylum and refugees held in indefinite detention for up to seven years.
The Time for a Home campaign launched today, is calling on the Morrison Government to resettle people in a permanent home by World Refugee Day in June 2021.
People who have been through offshore processing and remain detained in a network of facilities, including Alternative Places of Detention (APODs) of Mantra Hotel in Melbourne and Kangaroo Point Hotel in Brisbane, and offshore, need a permanent home to recover their health and rebuild their lives.
Human rights activist detained at Villawood detention facility, Farhad Rahmati:
"I am a civil engineer but I don't have a future. The Australian Government has imprisoned us for 7 precious years of life, away from loved ones and community. We lost 13 brothers who died in offshore processing, it's time for Prime Minister Morrison to give us freedom to start life again in a safe, new home."
Louise Redmond, National President of Rural Australians for Refugees (RAR):
"RAR members have been visiting people seeking asylum and refugees in detention particularly in Queensland, New South Wales, Victoria and South Australia. for many years and have kept in contact via mobile phones during COVID-19 restrictions. It concerns us all that as restrictions ease, visiting rights have not been restored."
"A number of our members are ready to welcome people into their homes as part of a resettlement process. RAR urges the Government to work with us to develop a plan for fair resettlement of people who have sought our protection."
Dr Sara Townend, Director of Independent Doctors Network:
"Australian doctors work with asylum seekers and refugees across a number of settings. We see first-hand the impact that detention has on physical and mental health. Providing durable and safe pathways towards resettlement needs to be a priority for these patients.'
Jana Favero, Director of Advocacy and Campaigns at Asylum Seeker Resource Centre:
"The only thing standing between a permanent home and refugees is our Government. We must stop punishing people, simply because they sought safety on our shores. The community has spoken, Doctors have spoken, and experts have spoken. It's time for our Government to stop playing politics with people's lives and do the right thing."
Australian Refugee Action Network spokesperson:
People across Australia are saying that there is no justification for holding refugees and people who are seeking our protection for years in immigration detention. Like all of us, people need freedom and the chance to build their futures. Detention is totally unnecessary and damaging to the people deprived of freedom and hope, and to the community and we cannot tolerate it."
Sarah Dale, Centre Director and Principal Solicitor of Refugee Advice and Casework Service (RACS):
"Our Government has spent the last 7 years holding men, women and children in appalling conditions, for daring to seek safety on our shores. This from a country that holds itself as a leader in Human Rights. It's time for the double standards to end and for the Government to allow all refugees to rebuild their lives in permanent safety."
Dr Graham Thom, Refugee Coordinator, Amnesty International Australia:
"For more than 7 years refugees have been stuck in detention. It's time for this to end, for the Australian Government to show compassion and humanity and find people a home."
ENDS
Click here for Media Brief: Time for a Home campaign to release and resettle refugees in detention
Leave a reply