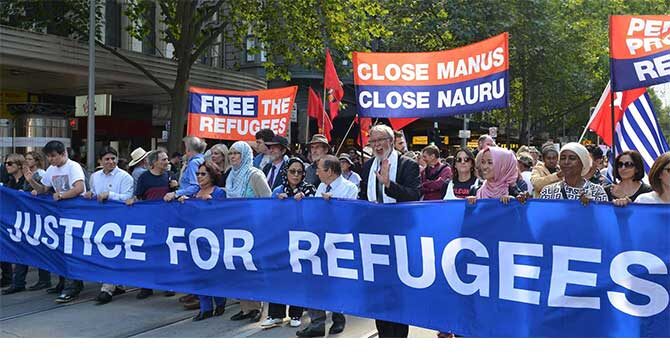 Media Release
10 December 2020
World Human Rights Day 2020 is the 7th that the Morrison Government has continued Australia's internationally condemned policies of offshore processing, indefinite detention and precarious long term temporary visas for people seeking asylum and refugees.
Australia's detention regime is rife with lack of oversight or accountability for medical neglect, use of excessive force, and physical and mental health deterioration due to long term family separation and harmful detention conditions.
Today, around 290 people remain in offshore processing, approximately half in Papua New Guinea and half on Nauru and 1226 people are currently in Australia after being transferred from offshore processing.
Around 200 people remain held in and are forcibly transferred around a network of onshore detention facilities, including Alternative Places of Detention at Mantra hotel in Melbourne, Kangaroo Point hotel in Brisbane.
Women, men and children are being forced to survive on short-term bridging visas, excluded and cut off from safety nets and forced into poverty and homelessness, because the Australian Government continues to punish them for seeking asylum on our shores.
Thousands of whom have no pathway at all or hope for a permanent home and a safe future.
Jana Favero, Director of Advocacy and Campaigns at the ASRC: "On World Human Rights Day we stand in solidarity with people who have had more than 7 years of their lives taken away by the Australian Government's policy of indefinite detention and precarious temporary visas."
"Women, men and children are struggling with forced poverty, long term family separation and mental and physical deterioration. When with a stroke of a pen the Government could free and empower them to build a new life in a safe home, so they can contribute back to their community and economy."
"The majority of the Australian community wants an end to our international shame of human rights abuses towards people seeking asylum and refugees."
Ahmad Hakim, community organiser at the ASRC and founder of Refugee Voices: "I am a refugee who has made a home in Australia with my wife, who I met in Adelaide, and our three beautiful children."
"Human rights for me is not an old school idea from the past, but a practice of keeping our human dignity, being respected and safe."
"The Morrison Government must respect and celebrate human rights of people seeking asylum and refugees, not abuse them."
For media comment: Marcella Brassett on 0411 026 142
Leave a reply