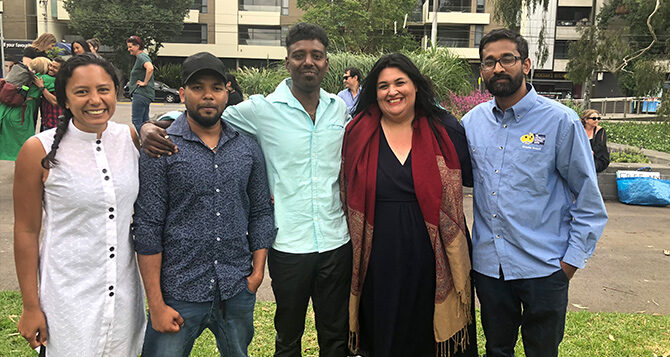 Media Release
28 January 2021
The Asylum Seeker Resource Centre's (ASRC) confirms that 15 people, including one woman from Melbourne Immigration Transit Accommodation (MITA) have been released into accommodation with sector support.
ASRC is extremely concerned about the mental health of around 140 people remaining in the network of detention facilities across Australia, including around 30 people at MITA, around 30 at BITA, 15 at Darwin Mercure Hotel and more than 80 at Brisbane Kangaroo Point Hotel Alternative Place of Detention (APOD).
ASRC caseworkers are especially concerned about the mental health of the 11 people remaining detained at the Park Hotel APOD.
Circumstances that are worsened by the arbitrary nature of their detention and lack of information on their release.
Everyone at the Park Hotel is at high mental health risk without adequate emergency medical support inside detention centres.
Some of the men in the Park Hotel were told they would meet with the Australian Border Force today.
A number of people who were transferred under Medevac who remain in detention facilities across Australia have been accepted for resettlement in the U.S. under the Government's deal. One man from Park Hotel flew out last night.
Last week 46 men from the Park Hotel and 3 people from Melbourne Immigration Transit Accommodation, including one woman with her husband were released into the community on bridging visas.
These releases are a testament to the dedicated work and public pressure from the people inside detention as well as activists, artists, grandmas, mums, public figures, doctors, lawyers, human rights organisations, community groups and friends.
We call on the Government to release everyone so they can recover their health and access independent medical care and support networks in the community.
Heidi Abdel-Raouf, ASRC detention advocacy caseworker: "The arbitrary nature of the detention conditions and lack of information and notice from the Government on the releases is causing high levels of distress amongst people being left behind."
"The Government is playing with the mental health of those who are already extremely distressed."
Jana Favero, ASRC Director of Advocacy and Campaign: "The Morrison Government must provide an urgent, comprehensive and transparent release and resettlement for everyone after 7 years of abject policy failure, medical neglect and the loss of many lives under its inhumane offshore processing and indefinite detention policies."
Seham (not her real name), Woman held on Nauru and at MITA:  "I don't know how to feel, 99% of me didn't think I would be released. Australian Border Force have played games, they can bring excuses not to release us."
"I haven't really been outside for 8 years, I have some fears, I don't know what will happen, don't know the world outside"
"The women still inside detention are very happy for people who get released, but they have a hopelessness feeling, living in the dark, nothing can take your mind from this. Some people say don't lose their hope, I do painting to help my mind but it has been very hard."
ENDS
*Name changed to protect identity
For interviews and more information call Marcella Brassett on 0411 026 142
Leave a reply