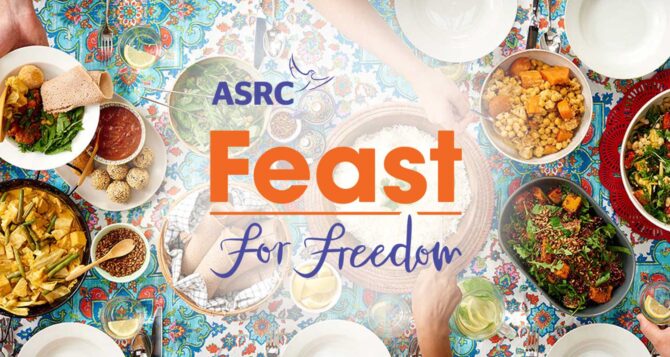 Food is something that has the power to bring people together – and that's the real power of Feast for Freedom too.
At its core, Feast is a coming together of community to celebrate the food, culture and stories of refugees who have sought safety in Australia while helping to raise funds that support people seeking asylum. 
How it works
As a Feast host, you'll invite your friends, family or work colleagues to attend your Feast and try cooking delicious dishes using recipes that have been gifted by refugees.
You'll also invite your guests to chip in and make a donation to your Feast to help you in your fundraising for the ASRC to support and empower people seeking asylum. 
Along the way you'll also discover the stories of people seeking asylum, taste new cuisines and get to spend time with loved ones and celebrate the things that unite us.
Feasting is super easy:
Register your Feast at https://feastforfreedom.org.au/

Receive your FREE Feast hosting kit (including recipe book)

Select the date of your Feast – Friday 26th – Sunday 28th March. (If you're not available then, you can also host at another time.)

Choose to cook the recipes provided by our refugee cooks (or prepare your own recipes)

Raise funds for your Feast via your own fundraising page 

Host your feast in your home or workplace
Whatever flavours you choose, we hope you will join us on this amazing culinary experience and celebration of what unites us.
Discover the recipes gifted by refugees
Feast is a wonderful food experience and delicious discovery of new cuisines and cultures. This year's recipes have been gifted by refugees from Sri Lanka and Palestine and include tasty dishes like an Aheda's crunchy Green Falafel and a Smoky Baba Ganoush, or Niro's theatrical vegan Kothu Roti and crispy split pea Paruppu Vadai fritter. 
The recipe options are plentiful and your guests will love that you have cooked dishes for them, following recipes gifted by refugees from their own family traditions.
Or you can take your guests on your own tasting adventure by opting to cook from your own family cookbooks. This is a great option for the workplace too! 
View this years' Feast for Freedom menus

We hope you will join us in feasting for freedom this March!
Leave a reply