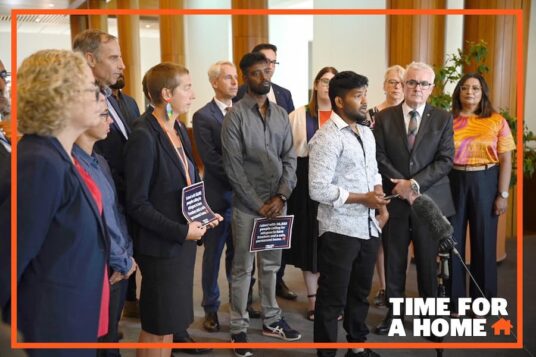 Media Release
25 February 2021
This morning, two refugees recently released from detention in Melbourne and The Time for a Home alliance of 160 organisations and community networks, handed a petition to Labor, Greens and crossbench MPs with 36,923 signatures.
The petition calls on the Government to release all people transferred from Offshore Processing from detention and resettle them in a safe, permanent home by World Refugee Day, 20 June 2021.
The petition was accepted by Andrew Wilkie MP, Independent; Andrew Giles MP, Labor; Senator Nick McKim, Greens; Peter Khalil MP, Labor; Russell Broadbent MP, Liberal; Senator Janet Rice, Greens; Sharon Claydon MP, Labor; Ged Kearney MP, Labor; Rebekha Sharkie MP, Centre Alliance; Senator Mehreen Faruqi, Greens; Josh Burns MP, Labor; Luke Gosling MP, Labor; Adam Bandt MP, Greens; and Larissa Waters MP, Greens.
While overwhelming public pressure has led to the release of 68 people from detention since December last year, over 100 people remain detained.
People are in severe distress, their mental health rapidly deteriorating without any emergency mental health support inside detention centres, and without any reason or plan from the Government for their release. 
Thousands remain on short-term bridging visas without a safety net or hope for a home and a future. 
Thanush Selvarasa, human rights activist and refugee detained on Manus, Mantra and MITA, released on 28 Jan 2021 said: "Now when I look up at the windows of the Mantra Hotel I remember the years of pain, sickness and isolation we have all been through. I want women and men still locked behind windows and in their rooms to get their freedom, so they can breathe and heal their health." 
"I want all of us to have a home and a future to live our dreams, eight years is  too much life to lose for no reason, we are part of the community now, we are loved and supported, it's time for a home."
Ramsiyar Sabanayagam, human rights activist and refugee detained on Manus, Mantra and Park Hotel, released on 21 Jan 2021 said: "We lost 14 brothers to Offshore Processing and detention, many women and children suffered terrible trauma for eight years and counting."
"Yet we have received so much love and support from the community in Australia, and we love being free to live with our friends. Human beings need freedom to be healthy, and we want all people who are in detention to be released after 8 years of being hurt in detention." 
Cassandra Goldie, CEO at the Australian Council of Social Service (ACOSS) said: "We're calling on the Government to finally show some compassion and basic human decency to the men, women and children who have been through so much and are just looking to join our community and be able to carry on with their lives."
Natasha Blucher, Regional Response Coordinator at Cabrini Outreach Asylum Seeker Health said: "In all of the patients our doctors have treated, severe psychological harm is evident. And this harm directly relates to long term detention and uncertainty. Its impacts include chronic pain conditions, post traumatic stress disorder, anxiety, hypervigilance and self-harm."
"As human beings, we all need to be safe. We need to be connected. We need to build a future for ourselves, our loved ones, and for the community around us. We need to hope, dream and contribute. We need all of these things to have good health and wellbeing. Our patients have been denied this, and as a result, their health has suffered."
Jana Favero, Director of Advocacy and Campaigns at Asylum Seeker Resource Centre said: "Today we send a clear message to the Morrison Government that there is overwhelming support from a cross-section of Parliament and the community for people transferred from Offshore Processing to be released from detention and resettled in a permanent home."
"The Government needs to reveal its plan after 8 years of abject policy failure that has cost 14 lives and destroyed the health of hundreds. It's time for people to have freedom and a home, without unnecessary delay or meaningless excuses."
Sarah Dale, Director and Principal Solicitor at Refugee Advice and Casework Service (RACS) said: "Our Government has spent the last 7 years holding men, women and children in appalling conditions for daring to seek safety on our shores. This from a country that holds itself a leader in human rights. Today the community has spoken. It's time for the double standards to end and for the Government to allow all refugees to build their lives in permanent safety."
Marie Sellstrom Committee Member at Rural Australians for Refugees said: "Rural Australians for Refugees are so delighted to see justice and freedom at long last for the men and women being released from indefinite detention. Many people seeking asylum and refugees are part of rural communities and we call on the Morrison Government to urgently release everyone, and take up New Zealand's offer to resettle people or give them a permanent home in Australia."
Dr Graham Thom, Refugee Adviser at Amnesty International Australia said: "With the US deal about to end and the offer from New Zealand still being ignored, more than 1,000 people detained under the Government's cruel immigration detention policy remain trapped in various forms of limbo. It is time for this cruelty to end. The Government must find them a home."
David Burke, Legal Director at Human Rights Law Centre said: "This petition represents people standing up and saying enough is enough. It has been 8 years since the failed policy of offshore detention was installed. After 8 years there are still people detained on remote islands and many more warehoused throughout our country. The Morrison Government can end this suffering immediately. All of these men, women and children must be given what they have been looking for all this time – a safe, permanent home."
Anisha Senaratne, Human Rights Director at GetUp said: "GetUp members across the country are calling for the immediate release of the remaining people trapped in detention."
"For too long the Government has held people in an agonising limbo, living through cruel and unimaginable conditions. But now the public – led by the fierce advocacy of those who are living and have lived in detention – are saying loud and clear that it's time to end this brutal immigration regime. It's time for a permanent, safe home for all."
ENDS
Click here for images of the petition handover.
For interviews and more information call Marcella Brassett on 0411 026 142
Leave a reply