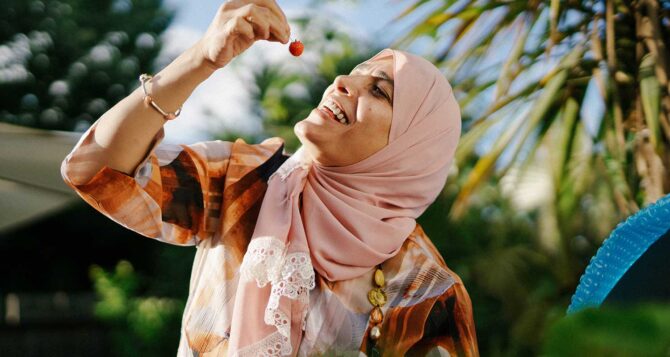 "I have two secrets for cooking. The first, is not my secret but my country's secret: 'cook with your hands'. The second secret is love. You need to put some love in your cooking!"
_
"I've been cooking my whole life. In Palestine I was a chef and I ran a catering business. All my favourite recipes come from my mother and my grandmother. I need to hold onto them. I need to share them. Because these recipes are my culture and I want my culture to last a long time.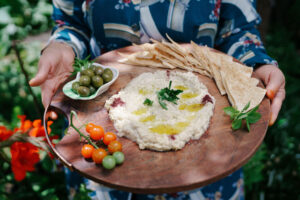 My story is very hard. In my country there's no safety and we don't have freedom. But here in Australia I feel safe. When I take the bus I am safe, when I go for a walk in the street or in the park, I am safe. 
I think I am happiest in my garden. Everyday I wake up, make a coffee and sit in my garden to chat with my plants. I ask them how they are feeling, 'do you need something? Some food? Some water?' This is a very happy place for me.
Right now, it's summer, so I have zucchini and eggplant ready. When you cook Palestinian food the vegetables must be fresh. It's very very simple. For my mothers' baba ganoush, you just smoke the eggplant, then add lemon, salt, garlic, tahina and it's ready. So classic.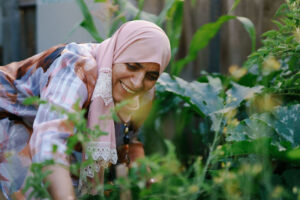 When I first arrived in Australia, I could only say 'yes' or 'no'. I couldn't speak any English. I went to the Asylum Seeker Resource Centre to learn English. I went to classes every day. 
For me, ASRC is my home, my family. When I walk in, people are so friendly, asking me how I am doing. It's a very good feeling.
Before I was volunteering in the kitchen at ASRC. I was cooking my food sometimes for 200 people. But now I am volunteering in the Foodbank. I pack the sugar, salt, dates, soap, coffee, almonds, washing powder, and the fresh vegetables into the boxes.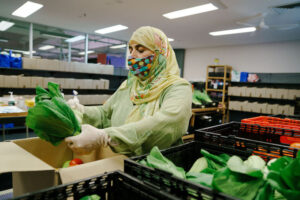 My dream is to open up a food truck, called 'Aheda's Kitchen'. I want to travel all around Australia sharing people my Palestinian food. When people try my dishes and they say 'oh my gosh that's so delicious' it makes me feel so happy.

I wish you luck cooking my recipes and I hope they bring you happiness too.
REGISTER TO HOST AND COOK AHEDA'S RECIPES
Leave a reply