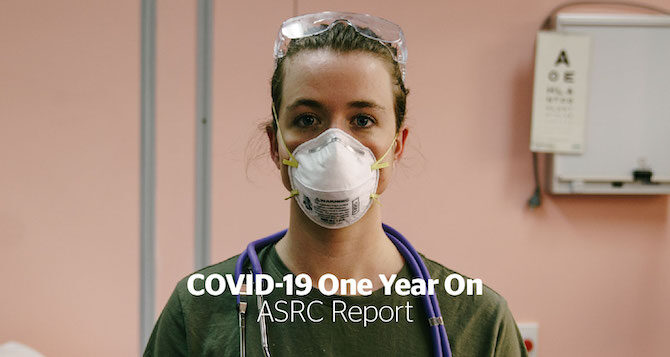 It has been one year since COVID-19 began to take effect across our community. As Australia went into lockdown, components of the refugee experience – isolation and limits on freedom, an inadequate safety net and being left in limbo while separated from loved ones – suddenly became relatable for everyone. But people seeking asylum were among those most negatively impacted by the pandemic.
Overnight, the Asylum Seeker Resource Centre saw a three-fold increase in requests for assistance – many from individuals and families who had been living independently in the community for years.
That's because even in normal times people seeking asylum cannot access safety nets like Centrelink, Medicare or other social security benefits while they look for work. For those people who were already employed but lost their job or work hours during the pandemic, our Government also excluded them from pandemic safety nets like Job-Keeper and Job-Seeker.
The ASRC quickly became a lifeline of hope to thousands of people who had no income and nowhere else to turn for support with the basics. 
When we asked for your support to help us, it came in droves. Thank you.
Backed by our generous community of compassion, we remained open to ensure people had food on the table, access to vital healthcare and medicines and were able to stay in their existing housing arrangements. 
Last month we published an in-depth report on the impact of COVID-19 on the lives of people seeking asylum and how the ASRC responded to the crisis, thanks to our community. As an organisation, we are committed to demonstrating our accountability to you, the community that supports our work and makes what we do possible.
People seeking asylum will continue to be subjected to punitive Government policy, and the road to recovery will be long for some. But thanks to you, we can continue to be there to support people and help them rebuild their lives. 
Even today, we continue to be the supermarket, pharmacy, local GP and a roof over the head of many families doing it tough right now. We continue to support people in their journey to independence again through our employment and education programs and provide a pathway to employment through our social enterprises. And we'll continue lobbying our Government for fairer policies that provide people with the opportunity to thrive in Australia.
Our values and a belief in a fairer, more inclusive Australia drive our work. But it is our unwavering hope for a better future that leads our way.
Leave a reply