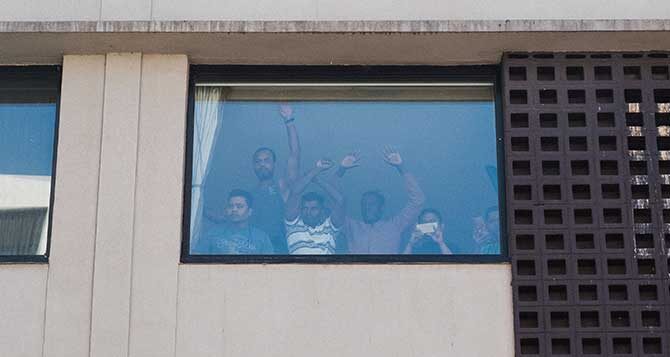 Media Release
25 October 2021
The Morrison Government has presided over an avoidable catastrophe in Melbourne's Park Hotel Alternative Place of Detention (APOD) as nearly half of the 46 people in the hotel test positive for COVID-19.
Two weeks ago refugees and people seeking asylum in Park Hotel began displaying symptoms of COVID-19, with three people testing positive on Sunday, October 17, there are now 20 people who have tested positive.
There have been significant delays in test results for people in Park Hotel and people are being re-tested due to the poor quarantine conditions.
The lack of care people with COVID-19 have received in recent days has been similar to their treatment over the previous 8 years in that it was ad hoc, inadequate and dangerous. Especially as there are at least 14 people who are immunocompromised and as such are at heightened risk.
People inside Park Hotel have reported waiting 5 hours to see a nurse, they struggle to get basic medication such as Panadol and often have to monitor their own oxygen levels. The quarantine measures have changed from day-to-day and there is no clear plan from the Morrison Government or its contractors.
The Department of Home Affairs' healthcare provider, International Health and Medical Services (IHMS) is responsible for providing medical support for those in Park Hotel. However, reports from Park Hotel indicate that IMHS is not providing adequate care, is understaffed and does not have the necessary expertise. IHMS is currently facing criminal charges concerning their failure to comply with health and safety standards in detention in a separate incident.
The Asylum Seeker Resource Centre on Monday, October 18, sent risk notifications to both the Australian Border Force and IHMS concerning Park Hotel but has yet received no reply.
Numerous organisations have been warning the Morrison Government of the threat COVID-19 poses to those in detention, these include the Australian Human Rights Commission, the Commonwealth Ombudsman, the Australasian Society for Infectious Diseases and the Australasian College for Infection Prevention and Control.
Since December 2020 the Morrison Government has released nearly 180 refugees and people seeking asylum from detention. This has drastically reduced the risk of COVID-19 spreading.
Refugee held in Park Hotel: "I want to tell them we have been here 9 years and we are dying. We are very very scared. Every day there is another case, another case, there is no safety and no rules. Here it is very bad, it is closed, there is no fresh air, it is a small place. There is not any doctor. Half have COVID-19, we are not just speaking about a visa we are speaking about our lives. They don't give us medicine, there is nobody. It is really scary."
Thanush Selvarasa, human rights activist, current ASRC human rights intern and refugee detained on Manus Island, PNG, MITA and the Mantra Hotel Melbourne, was released 28 Jan 2021: "It is hard to hear about the news, painful news, about my brother in Park Hotel. In my experience anytime I was sick I did not have proper medicine, they would just give Panadol. When I was in detention I was also talking about an outbreak of COVID, now look. The Government is very careless, they need to have more care for my friends in detention."
Jana Favero, Director of Advocacy and Campaigns, Asylum Seeker Resource Centre (ASRC) said: "What is happening at Park Hotel is scandalous, the complete lack of transparency is a cynical attempt to hide this issue and deny proper security of the atrocious choices this Morrison Government has made in the face of all advice."
"It is well past time for all refugees and people seeking asylum to be released from detention, just imagine if there was an aged care facility with nearly half people with COVID-19, or in hotel quarantine."
–ENDS–
Media contact: Sam Brennan 0428 973 324 or sam.b4@asrc.org.au
Leave a reply