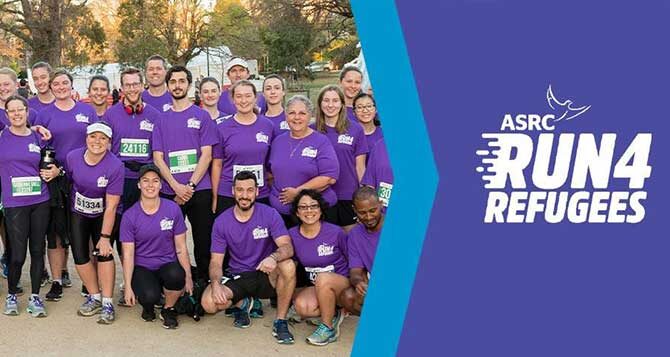 The ASRC's much-loved community fundraiser, Run 4 Refugees, is back for 2021. 
For the past 12 years, our supporters have come together as 'Team ASRC' at major events across Australia. The funds raised during these events go directly to the ASRC, enabling us to continue providing essentials such as food, housing, legal aid and healthcare to refugees and people seeking asylum.
This year we're doing things a little differently – introducing Kilometres of Compassion. 

One Day, Your Way – Choose Your Challenge
We invite you to set your own challenge to complete on Sunday 21 November as part of our new Kilometres of Compassion event.
The choice is yours: walk, run, swim, skate, or cycle one of your favourite routes. Get creative with it! Skipping, rolling, jumping, dancing and bouncing are all valid activities – the important thing is to set yourself a meaningful challenge that inspires others to contribute to the cause. 
Anyone can take part in Kilometres of Compassion, safely and within local public health restrictions, anywhere across Australia and every participant will receive a complimentary Run 4 Refugees T-shirt, so keep an eye out for Team ASRC members in your local area!
If you prefer to take part in the traditional events, you can still join Team ASRC at Bridge to Brisbane (7 November) or Melbourne Marathon Festival (11 – 12 December). Either way, you can go it alone, or team up with friends and family, as you raise funds to help people seeking asylum rebuild their lives in safety. 

Make a Difference
At the ASRC, we believe that every person seeking asylum in Australia should have their human rights upheld, and be given the opportunity to become a valued member of our communities. The funds you raise as part of your Kilometres of Compassion challenge will enable the ASRC to continue offering programs that provide protection, aid, empowerment and dignity to people seeking asylum.
Click here to read more about how your participation immediately impacts people seeking asylum
Leave a reply