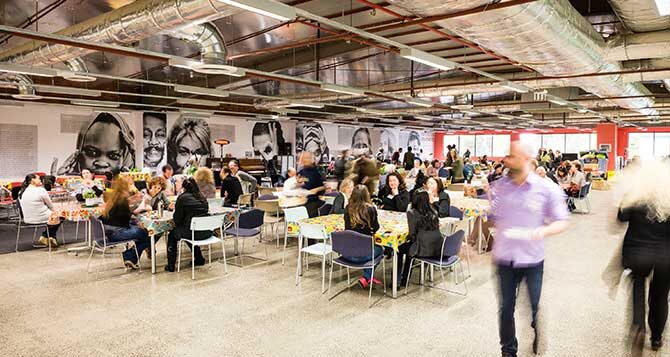 "It's my first office experience in Australia and I've been able to adapt myself well to office-based work. It's been very educational – I've learned something new almost every day." – Luka*
The Victorian State Government's Working for Victoria Initiative (WfV) has given people like Luka* a second opportunity to work at the ASRC and gain valuable experience to progress their careers in Australia while providing others an important first step to regaining independence through employment.
This year the ASRC was the proud recipient of a second Working for Victoria grant to provide employment opportunities to people with lived experience of seeking asylum who had lost work due to the pandemic.
WfV was established in 2020 as part of the Victorian Government's $1.7 billion Economic Survival Package to cushion the economic impact of the pandemic by connecting employers with job seekers.
Thanks to the WfV initiative, the ASRC was able to employ an additional 21 people for upward of 20 hours per week to help support the ASRC's frontline service delivery, including the Foodbank, Material Aid, Health Clinic, among other programs. These fixed-term contracts which concluded between October and November 2021 not only provided paid employment to participants but helped equip people with the experience, knowledge and skills required to expand their professional networks and navigate the Australian workforce.
"We worked on soft skills, time management and professional support sessions provided in a supportive environment," said Flor Sedighi, who led the WfV project for the ASRC, which was a collaboration between the ASRC's Human Resources, Employment and Grants teams.
"The objective was to accelerate the professional development of this cohort to increase their employability and reduce the impact of systematic and structural barriers for the economic participation of people with lived experience of seeking asylum," explains Flor.
The project had the added benefit of restoring agency and independence for people seeking asylum who had lost their jobs due to Covid-19, and were cut off from any government support.
The first WfV grant, awarded in May 2020, placed 105 people seeking asylum into new roles within the ASRC on six-month fixed-term contracts. Over 70% of this first cohort have gone on to find permanent roles with numerous local businesses and organisations, while the others continue their job search with support from the ASRC Employment Program.
For people like Luka*, who was also part of the first cohort, the WfV initiative has created a pathway for skills development and career progression. Starting work as a Foodbank Delivery Driver with the ASRC's Community Food Program, Luka demonstrated reliability and adaptability, during a year of rapid change. Luka* rejoined the ASRC team in 2021 as a Foodbank Support Assistant, in a role that utilised his statistical knowledge and provided an opportunity for further career development.
"I noticed a big improvement even over the past month in my English, due to writing emails, recipes and project plans and having to think in English all the time," said Luka.
Luka has also enjoyed the healthy eating focus of his new role and hopes to develop his English to a level that enables him to pursue tertiary education and become a nurse.
The ASRC's Employment Program is a holistic and integrative program that provides pathways to employment for people seeking asylum and helps unleash peoples' full potential. Using its targeted vacancy resourcing strategy – which matches members with roles based on their interests, skills and experience – the Employment Program has helped restore agency and independence for the people employed through the WfV initiative. Throughout their employment contract with ASRC, the Employment Program has worked with individuals to build their skills and confidence to succeed on the job and build their careers in Australia.
*Name has been changed for privacy reasons.
Leave a reply