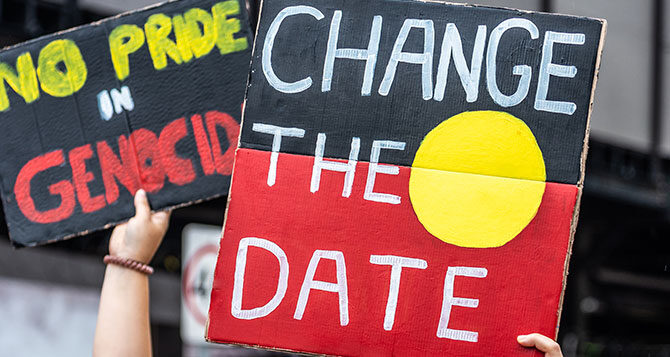 The ASRC acknowledges First Nations people's unceded sovereignty and recognises and celebrates their continuing connections to land, waters, communities, cultures and customs. 
In solidarity with Aboriginal and Torres Strait Islander people, the ASRC chooses not to observe the Australia Day public holiday on January 26th and we will be open to support people seeking asylum.
We recognise that for First Nations people, the 26th of January is a day of sorrow, not celebration, as it marks the beginning of the dispossession of Aboriginal and Torres Strait Islander people and their land and is a day of great trauma, grief and loss.
A national celebration must not take place on a day of mourning for First Nations people and we join the call to #changethedate of Australia Day. 
The ASRC decision not to observe Australia Day on the 26th of January was formalised in 2018 through staff and volunteer engagement and with the traditional custodians of the land on which the ASRC stands in Footscray, Wurundjeri Country. 
Changing the date our organisation observes Australia Day has been an important first commitment toward reconciliation and advocating for change. 
On this date, the ASRC is proud to acknowledge another important milestone in our truth-telling journey – the endorsement by Reconciliation Australia of our first Reflect Reconciliation Action Plan.
The ASRC's Reflect RAP is part of our contribution toward reconciliation and outlines the reconciliation initiatives we will embed in our work in 2022 to help end the exclusion of First Nations people that has been so damaging. We are proud to join the fight for justice for and with First Nations people and thank Reconciliation Australia for their partnership and guidance throughout the formal process.
Our vision is that all Australians, First Nations people and those who have come here seeking asylum, can live safely, sustainably, independently and equally. We imagine a future where the cultures, histories and rights of First Nations people are recognised and valued by every Australian and are a proud part of our shared national identity.
To date the ASRC's reconciliation journey has also included support of the Uluru Statement from the Heart, integrating an Acknowledgement of Country at the commencement of every meeting, respectfully facilitating Indigenous Elders to attend events and to provide Welcome to Country and using our social media platforms to promote Indigenous activism including supporting the 'Change the Date' campaign and promoting National Reconciliation Week and NAIDOC Week. 
We invite you to read our approved Reflect RAP and visit reconciliation.org.au to learn more about reconciliation action. We are excited to continue expanding and deepening our understanding of and commitment to reconciliation and thank you for your support in our journey ahead.
Leave a reply