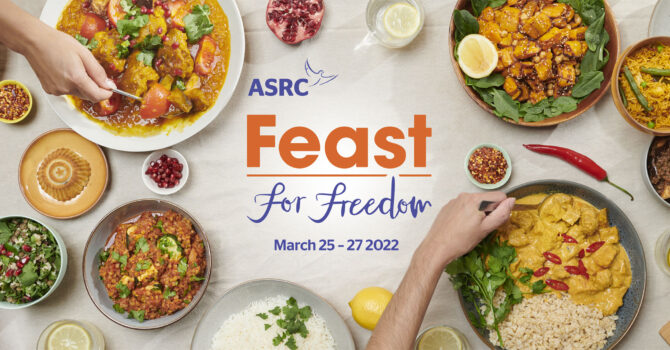 Good food has the power to bring people together as one family, one community, and one people – that's the power of Feast for Freedom.
Feast for Freedom is a celebration of the community coming together to unite – in support of refugees and people seeking asylum. It's also a celebration of incredible food, diverse cultures, their stories and their contribution to Australian cultural diversity.
Last year, more than 1,300 people around Australia hosted their own Feast for Freedom. They gathered in their homes, workplaces, and online to share delicious food based on recipes gifted by refugees. Together, we raised over $642,000 to support and empower people seeking asylum.
This March Feast for Freedom returns with the ambitious goal to raise $1,000,000.

How it works
As an official Feast Host, you will invite your friends, family, or colleagues to Feast with you and share delicious food from our Feast Recipe Booklet. This year's recipes have been shared by two cooks, Manel and Mahshid, who are refugees in Australia. The recipes include something for everyone, from Manel's Green Chilli Chicken and Mahshid's Persian Jewelled Rice – all of which can be altered to meet your guests' dietary needs. You can learn more about Manel and Mahshid – their journeys to Australia and rich cultures they bring.
You'll also invite your guests to donate to your Feast to help you reach your fundraising goal and help the ASRC support and empower people seeking asylum.
Along the way you'll taste new cuisines and get to spend time with loved ones and celebrate the things that unite us.
Feasting is super easy – learn more here.
As a Feast Host, you'll also receive a special Host Kit with some goodies just for you.
Unfortunately we can't ignore the COVID elephant in the room and have shared some tips and tricks to keep your Feast COVIDSafe.
We hope you'll join us in Feast for Freedom this year and celebrate what unites us.
Register now (for free!) 
Leave a reply