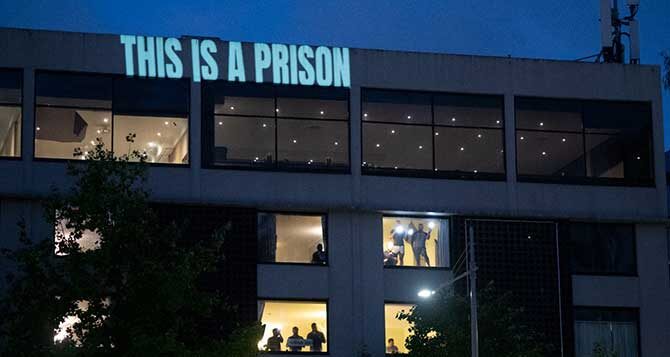 Media Release
15 March 2022
Fourteen refugees held in onshore detention have been released over the long weekend, including one person released from the Brisbane Immigration Transit Authority (ITA) yesterday afternoon.
Late on Friday night, 13 people who came to Australia from offshore detention for medical treatment were released from detention, 9 from the Park Hotel in Melbourne, 3 from Brisbane ITA and 1 from Melbourne ITA.
The Time for a Home alliance, of 140 organisations and community networks, welcomes the releases, as it ends the severe mental and physical health risks immigration detention poses.
There have now been over 210 refugees released from onshore detention centres since December 2020. However, this leaves around 50 people seeking asylum who were moved to Australia for medical treatment still in detention.
The Morrison Government has given no reason as to why some people are released while others, in almost identical situations, remain held against their will in detention.
The support that people released from detention receive, after being held for nearly nine years, is entirely insufficient. Released late on a Friday before a public holiday, people were offered minimal support, which will only last for three weeks on very restrictive temporary visas that will need to be renewed every 6 months.
The Morrison Government must urgently release the refugees still held in detention as well as provide a permanent resettlement plan and adequate support to people when they are released.
Thanush Selvarasa, human rights activist and refugee detained in PNG, MITA and the Mantra Hotel Melbourne released 28 Jan 2021, said: "This is wonderful news, for people to get their freedom. But this is nine years too late. Why could they not rebuild their lives in the community nine years ago? You cannot imagine how hard it is in detention, being there for no reason. We all came to Australia at the same time but we are all released at different times, this is not fair, this is not justice."
"I am happy to see my friends are free, you can see their smiles, I don't know where they hide this smile for so many years. But this is not the end, this is the beginning, we need to fight together for permanent protection."
Jana Favero, Director of Advocacy and Campaigns, Asylum Seeker Resource Centre (ASRC) said: "While we welcome the release of 14 people in the past days, the manner in which people are released continues to be arbitrary and shambolic. After 9 years of holding refugees and people seeking asylum, the Government effectively left them on the side of the road late on a Friday night with no warning. There must be open communication, support and a clear plan for resettlement, instead, the people released and the Australian public are faced with an information blackout."
"The mental and physical health impacts of being held in a detention centre is catastrophic. This will only be compounded as refugees watch their friends leave detention while they remain held against their will for no reason. Enough is enough, the Morrison Government must stop this piecemeal failed policy and provide a permanent resettlement plan to refugees in the community."
Ian Rintoul, Refugee Action Coalition said: "The drip-feed release of Medivac refugees is deliberate government policy to prolong the torture of people who have committed no crime. They are paying a very high price for the government's anti-refugee policies. Almost 18 months ago, Peter Dutton said people were being released because detention was too costly. It is still costing too much – too many years of too many lives of people who need protection and safety, like those today who are fleeing Ukraine. They need freedom."
Dr Graham Thom, Amnesty International Australia Refugee Advisor, said: "These releases, while absolutely welcome, underscore just how arbitrary and cruel the system is for refugees. People fleeing their homes don't have the luxury of choosing their mode of travel. Whether they arrive by boat or any other way, they are deserving of our care; we have an obligation morally as well as in law to help them. All those still in detention must be freed immediately."
–ENDS–
Media contact: Sam Brennan 0428 973 324 or sam.b4@asrc.org.au
Leave a reply