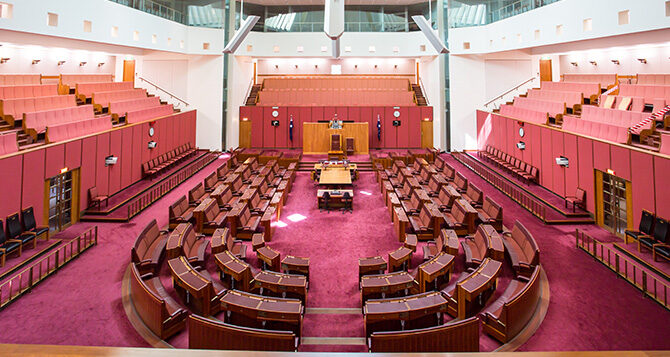 Media Release
28 March 2022
Senators are being urged to oppose a Morrison Government bill that would see thousands of Australian residents face detention and deportation. Legal experts have slammed the Government's decision to reintroduce the Migration Amendment (Strengthening the Character Test) Bill, which has repeatedly been rejected, as a political stunt at the cost of people on visas and their families.
The Bill failed to get through Parliament before the 2019 election, and then was blocked by the Senate in October 2021. The Bill passed the lower house last month with ALP support and is listed in the Senate for tomorrow.
If passed, the Bill would introduce arbitrary and unreasonably low thresholds which would automatically deem a visa holder to fail the character test, enabling the Government to detain and deport them even where the legal system has determined that a significant penalty is not appropriate.
The legislation would mean that people on visas who receive minor penalties for particular conduct – even decades ago – will also face indefinite detention and separation from their families, so long as the maximum potential sentence for their conduct was two years or more.
Parliamentary committees, including a National Party-chaired inquiry, have questioned the need for the Bill and noted that the Minister for Immigration already has extensive powers to refuse or cancel visas. There is currently no minimum standard of conduct for enlivening visa cancellation powers and the Morrison Government has not been able to identify a single case where this law would allow them to cancel a visa they do not already have the power to cancel.
The legislation is unnecessary, harmful and inconsistent with national efforts to address family violence, endangering victim-survivors, warn legal experts from the Asylum Seeker Resource Centre, Springvale Monash Legal Service, Human Rights Law Centre, Visa Cancellations Working Group, Refugee Legal and Refugee Advice & Casework Service.
Hannah Dickinson, Principal Solicitor, Asylum Seeker Resource Centre, said: "This Bill shows the government is prepared to mislead the community, ignore experts, harm disadvantaged communities, strain our justice systems beyond capacity, and waste valuable legislating time with demonstrably defective Bills, just to get votes.
The Bill is dysfunctional, dangerous and completely unjustified: it must be stopped."
Ashleigh Newnham, Manager, Strategic and Community Development at Springvale Monash Legal Service, said: 'This Bill will further endanger the vulnerable migrant women we see every day, who are put at risk through misidentification or cancellation of their partner's visa. This government has no regard for the safety of migrant women and children.'
Scott Cosgriff, Senior Lawyer at Human Rights Law Centre, said: "This is a shameful attempt to divide communities on the eve of an election campaign. If this dangerous and unnecessary bill becomes law, it is people on visas and their families in Australia who will pay the price."
Sanmati Verma, Deputy Chair, Visa Cancellations Working Group, said: "This is a brazen power-grab by a Minister who hoards personal powers. The Senate must stand up to protect vulnerable families from the dangers of this Bill."
David Manne, Executive Director and Principal Solicitor, Refugee Legal said: "This draconian and dangerous Bill is playing politics with people's lives. If passed, thousands more people could be locked up indefinitely or deported, tearing Australian families apart."
Sarah Dale, Principal Solicitor & Centre Director, Refugee Advice & Casework Service, said: "The introduction of such exorbitant personal powers is without justification. In a system where the odds are already so grossly stacked against you, this just further punishes and harms families, victims and our community – allegedly whom we are attempting to protect."
–ENDS–
Media contact: Sam Brennan 0428 973 324 or sam.b4@asrc.org.au
Leave a reply