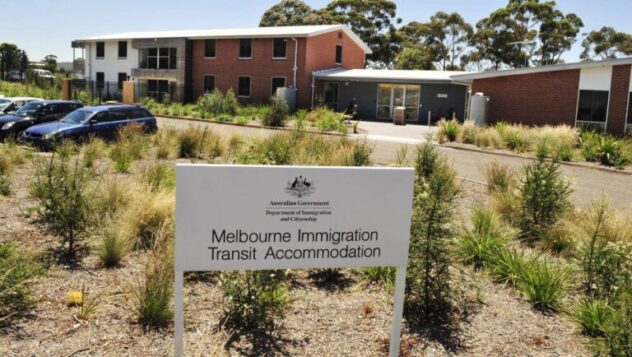 Media Release
3 May 2022
Reports of people held at the Melbourne Immigration Transit Accommodation (MITA) being forcibly moved to the Christmas Island detention centre are concerning as the facilities on the island are woefully inadequate and harmful.
The Asylum Seeker Resource Centre (ASRC) has spoken to people inside MITA who have been handcuffed without notice, loaded onto minibuses and are in the process of being transferred to an unknown location, likely Christmas Island. The Department of Home Affairs has refused to provide adequate information on why these removals are occurring and who is affected.
Currently, activists are preventing these forcible transfers by blockading MITA.
ASRC is calling for these forcible movements to stop and Christmas Island detention centre to close down, with particular concern over refugees and people seeking asylum who are held at the centre.
There are currently around 212 people held on Christmas Island around 90 of whom had protection, refugee or humanitarian visas, which were cancelled by the Minister of Home Affairs under their 'god-like' powers. Within this group 63 are engaged in an ongoing visa assessment process, merits review, judicial review or ministerial intervention process, according to most recent Senate Estimates.
The Morrison Government reopened the Christmas Island detention centre in August 2020. The Australia Border Force at the time, directly responding to human rights organisations, stated that no refugees are being transferred to Christmas Island.
Within 9 months ASRC knew of 103 refugees that had been transferred to Christmas Island, of which 102 have a history of self-harm, mental health conditions or physical health conditions requiring specialist care.
A 2021 report from the Australian Human Rights Commission concluded that Christmas Island is unsuitable for ongoing immigration detention, recommending that the Morrison Government urgently decommission the use of all immigration detention facilities on Christmas Island.
Myo Win, human rights activist, Rohingyan and refugee detained on Christmas Island and Nauru, released in March 2021, said: "Christmas Island and Australia's detention centres are just for torture and end up making people hopeless and helpless. People get mentally and physically sick. It is inhumanity, just for a group of people to make money and taking benefits from innocent people who are seeking asylum to save their lives and reunite with immediate family."
Hannah Dickinson Principal Solicitor and Manager of the Human Rights Law Program at ASRC said: "Christmas Island Immigration Detention Centre is not fit for purpose. Over 200 people are already detained there in cruel, chaotic and remote conditions, far from their families, without access to appropriate medical treatment, legal assistance or support and routinely denied basic rights."
"Experts have called for its urgent closure. Instead, the Morrison Government is transferring people there en masse in a secretive, military-style operation, with no notice or right of reply. This appalling practice speaks volumes of the worsening crisis in immigration detention. We call for the urgent closure of Christmas Island, the redress of conditions in Australia's detention facilities, and the release of the people unjustly detained across Australia's detention network."
Jana Favero, Director of Advocacy and Campaigns at the Asylum Seeker Resource Centre said: "The timing and lack of transparency around the attempted forced removal of people, including refugees, from MITA cannot be ignored. This is a very active move from a Government in caretaker mode and is cruelty for cruelty's sake. Yet again, people seeking asylum and refugees are being used for political purposes. The Australian public will see through this attempt to divide us with fear''.
-ENDS-
Media contact: Sam Brennan 0428 973 324 or sam.b4@asrc.org.au
Leave a reply