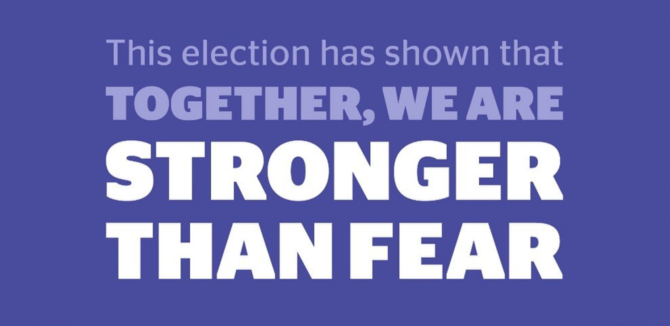 A letter from Kon:
We're stronger than fear.
If I had to sum up what this election result tells us in one sentence, that's it. That's the tweet. We are stronger than fear.
Right now, it looks like the Labor Party will form a minority government.
This is a victory for people seeking asylum and refugees, now we can start to repair the damage done over previous years.
We'll be heading to Canberra soon and doing everything we can to make sure that the new government delivers on the promises they made to people seeking asylum and refugees within the first 100 days.
This election has also seen the emergence of new independent 'Teal' politicians. With the Greens, these independents have taken a principled stance against fear and division, clearly stating that they want a society and community that cares for refugees and people seeking asylum.
The significant swings away from politicians who have implemented cruel and harmful policies toward refugees and people seeking asylum cannot be ignored. From Ryan in Queensland to Goldstein in Victoria people want a caring community and will no longer support politicians that seek to divide. The Greens and new independents will now be key to forming a government and will do so based on a humane approach to refugees.
Labor has promised to make some incredibly important changes to the lives of refugees, we need to make sure this happens quickly.
The new Labor government has said it will provide permanent protection to the 19,000 refugees living with the cruelty and uncertainty of Temporary Protection Visas and so-called Safe Haven Enterprise Visas.
We'll be speaking up for the 10,000 people whose lives are on hold as they wait for a decision on their claim for protection. Their refugee status needs to be quickly and fairly reassessed.
The Albanese Government has also promised to replace the so-called "Fast Track" system, which has denied thousands of people seeking asylum the right to fair and proper review of government decisions, with a new just and efficient process for assessing people's need for protection.
The new government also committed to increasing Australia's refugee intake, providing mainstream social services to all people seeking asylum and bringing an end to arbitrary and indefinite detention.
We commend the incoming government for making these commitments, but we need change now to repair the damage of the past decade. We won't be taking these promises for granted and we'll be working to see them implemented urgently.
I've put together a short video that helps explain what this result means.
But today, I'm also thinking about a different election, a few months after the ASRC opened its doors more than 20 years ago.
Back in 2001, few people knew or cared that small numbers of men, women and children escaping war and violence made it to our shores in search of safety. If anything, our response was one of sympathy and compassion.
But when John Howard ordered SAS troops to board a Norwegian freighter carrying 433 dehydrated, desperate and hungry people rescued from certain death, something cracked in our nation's soul.
With the shameful commitment of the Labor opposition, Howard rushed draconian changes to our laws through Parliament, to stop refugees exercising their right to seek protection and force them to brutal detention camps on Manus Island and Nauru.
The sole aim was to save an unpopular government, by distracting and dividing us against each other and making refugees targets of fear of hatred.
Those cold, calculated decisions were made in a cynical rush. But the events of 2001 have poisoned hearts and imaginations for decades, giving future politicians a template for winning elections – even as they pursue policies that make the majority of everyday people worse off.
Over the last twenty years, I've despaired at times. I've wondered if we'll ever recover from the fear and division unleashed by our political leaders all those years ago.
But I've always believed that we have the capacity to unite across our differences and truly welcome those of us who cross the seas for the love of family and freedom.
Today, my hope is renewed. Let me tell you why.
This election, we heard a government talking about "boats" and "borders" once again. We saw them try to distract us from the big challenges we all face, by pointing the finger at refugees.
Even as the opposition promised positive change for refugees in some areas, we saw them betraying their values and joining in this desperate race to the bottom, in a futile bid to avoid being "wedged".
But those old tactics of fear and division couldn't save an unpopular government from defeat this time. Now, we have a chance to show leaders on all sides of politics that no matter where we come from, what we look like or how we got here, we are stronger than fear.
Sadly, there are areas where Labor has fallen into the trap of playing along with the old tricks of fear and division.
It is devastating that Labor lacked the courage to end the cruel and inhumane system of offshore detention that cost the lives of 13 people, saw thousands of people forced to PNG and Nauru and hundreds locked up in unsafe hotel detention after being brought to Australia for medical care.
We are all going to have to work hard to bring an end to this brutal system, once and for all.
More than 200 people who sought protection in Australia are still being held in PNG and Nauru and denied protection. Even with the New Zealand deal, hundreds of refugees are trapped in limbo without a clear pathway to safe, permanent resettlement.
Under the Morrison Government, people who sought asylum by sea have been cruelly denied the ability to reunite with their families.
While Labor has made some positive noises on this issue, all refugees need a guarantee of fast and equal access to family reunion. Every day that passes is another day that parents are separated from their sons or daughters.
I want you to know that we'll keep working to change policies which harm refugees and people seeking asylum, and we won't stop until leaders on all sides of politics recognise that true strength means working to bring us together, no matter where we come from, what we look like or how we got here.
Until that day, I know we will always find the leadership we need in that community of resilient, resourceful people, who've made journeys of great bravery and hardship to keep themselves and those they love safe from harm.
But even the positive commitments of a new government will take time to make a difference in the lives of the people who need them.
When the ASRC's doors open tomorrow, it will be like any other Monday for thousands of people seeking asylum left out in the cold by the harsh policies of the previous government.
Just as in winters past, people will be depending on organisations like ours to help them put food on the table, keep a roof over their heads and access healthcare and other critical services.
I know that whoever sits in our Parliament, the community of compassion you're part of will be there for refugees and people seeking asylum.
Please know that for our part, we'll keep using the fierce and fearless independence that your support gives us, to push hard for positive change.
Donate Now to the ASRC Winter Appeal
Today is a day to celebrate with all the people who now have a chance to reunite with family and rebuild their lives in safety and security, with all those waiting to have their stories heard and their need for protection assessed with fairness and efficiency, and with those who could finally be freed after years of detention without cause of end.
Tomorrow, we begin the work of consolidating and pushing for the change we need. But today we're happy to know we are part of a society and community that will not be divided by fear.
In solidarity,
Kon.
P.S – Right now we know that come Monday, the work can't stop – no matter the result. Support our independence, our advocacy and the critical services we provide with a donation to our Appeal. Donate Here.
Leave a reply