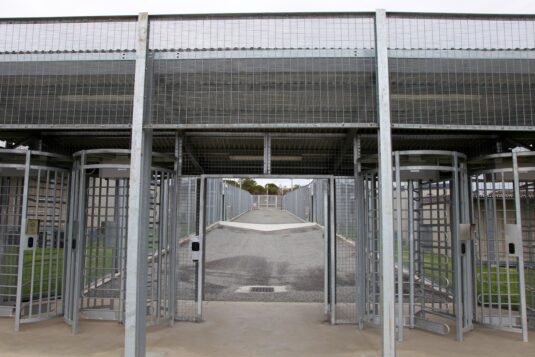 Media Release
29 June 2022
Protests at the Yongah Hill detention centre broke out Sunday night, following the tragic death of a person held at the centre earlier in the month. The demonstrations are a product of a broken and dangerous immigration detention system in urgent need of reform.
Australia is an international outlier, keeping people seeking asylum, refugees and migrants in detention without independent oversight, minimum standards or timeframes. The immigration system the Albanese Government inherits is broken and punitive, in large part due to the policies enacted under the Morrison Government with Dutton as Minister for Home Affairs.
Senate Estimates revealed that as of December 2021 there were 757 people seeking asylum, humanitarian entrants and refugees who were held in immigration detention centres around Australia.
Currently, people are held in Australia's immigration detention centres for an average of 697 days, an extraordinary figure when compared internationally: an average of 14 days of detention in Canada, 55 in the US and 29 days in the UK, with Germany and France having maximum lengths of detention under 32 days. For the 41 stateless persons held in immigration detention in Australia, the average number of days spent in detention is 897.
As the recent death at Yongah Hill shows, immigration detention facilities are inhospitable and dangerous environments. Between 2016 and 2021 the Australian Border Force recorded 42 sexual assault complaints against facility workers, 172 complaints of assault and over 2,650 actual and threatened instances of self-harm. Between 2017 to 2021 there have been 16 deaths recorded in immigration detention.
A recent outbreak of COVID-19 at the Melbourne Immigration Transit Accommodation (MITA) this month also highlights the inadequacy of detention centres during a pandemic. Medical and legal bodies, including the Human Rights Commission, the Commonwealth Ombudsman and the Australasian Society for Infectious Disease, have been warning of the risks COVID-19 poses under the current immigration detention regime for two years.
Refugees and people seeking asylum should not be held in indefinite arbitrary detention. Introducing enforceable protections, including time limits, in immigration detention should be expedited and those currently in detention should have their placement urgently reviewed for appropriateness. The Albanese Government has an opportunity to end years of chaos and cruelty in immigration detention.
A refugee in Yongah Hill detention centre said: "It is overcrowded, some people here have been waiting for years. The rooms that people are in are too small, they are not safe. Most people in Yongah Hill are here for nothing, little things. We just never know when we are going to be released. Some people have lost it, they don't shower, they don't brush their teeth, they talk to themselves and it changes people."
"My kids are struggling, they are struggling with school because I am not there to help them with homework. The needs of children should be put first, but this is not how the government is dealing with this situation. People have children, yet they are stuck here. My roommate's parents are both Australian, he is stuck here too."
"I have been working in Australia for nearly 20 years all this time I have been working, the government has just forgotten about all that. I came from a refugee camp I have no other country, all my family are Australian citizens."
Hossein Latifi, a refugee detained for nine years in Australia's onshore and offshore detentions centres, released in April 2022, said: "In detention, you are just breathing but inside there are no feelings, you become very depressed. You cannot stay hopeful every day, we are human, people get tired, mentally very tired. Even now when we get released we are not like before, I have lost 9 years for no reason."
"You don't have any details about your freedom. You want to get out because your mind is trapped in detention, you keep on asking when you are going to get out, but you get nothing."
"I see good people, quiet people who are in detention since 2012, they have been there for over 10 years. Why? Why does it take 10 years to look at a file? Give them a visa and let them live in the community. The system is broken. People are not in detention for one or two months, they are there for years. It is heartbreaking, when is this going to change? I hope Labor take action soon."
Hannah Dickinson, Principal Solicitor and Manager of the Human Rights Law Program at ASRC, said: "The situation in Australia's immigration detention facilities is untenable. Many people in detention do not have adequate legal or medical support, suffering harsh conditions and separation from their families. Each day, often for years, people wake up facing uncertainty, fearing forcible removal (often to persecution, including torture or death), or indefinite detention."
"These are unsafe places: people are suffering severe psychological harm and they are losing their lives. We call on the Albanese government to prioritise reform of this space to prevent further tragedies. Detention must be a last resort, and the conditions in detention must be humane."
–ENDS–
Media contact: Sam Brennan 0428 973 324 or sam.b4@asrc.org.au
Leave a reply