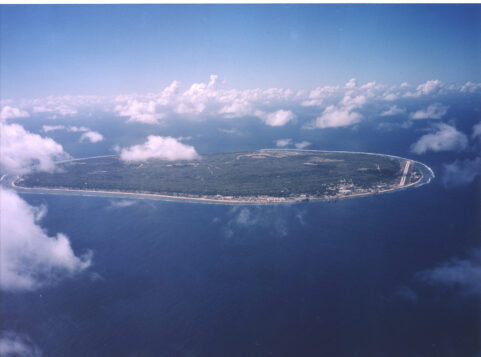 Media Release
7 July 2022
Refugees on Nauru are at significant risk unable to access essentials as over one in three people have contracted COVID-19 on the small island nation.
Over the past week, Nauru has recorded its first death from COVID-19, with around 4,000 people on the island of 10,800 recorded as having COVID-19. With lockdowns entering their third-week food prices have rapidly increased.
For the over 100 refugees currently held on the island as part of Australia's offshore processing regime, the situation is critical.
Over the previous two weeks, Asylum Seeker Resource Centre (ASRC) caseworkers have been receiving distressed calls from refugees on Nauru claiming that they have run out of food with supermarkets in lockdown and have no access to money with banks closed.
Services for refugees on Nauru have always been inadequate but the deteriorating situation has only exacerbated previous issues. Canstruct, the construction company turned service provider, has kept material support at pre-COVID-19 levels despite risings prices and has not provided access to case managers since the outbreak began according to refugees on the island.
International Health and Medical Services (IHMS), contracted by the Australian Government to provide support and medical services to the refugees on Nauru has closed down facilities on Nauru, only providing over-the-phone appointments and providing limited access to medicine.
Refugees held on Nauru are already highly vulnerable to COVID-19 due in large part to the physical and mental health issues sustained during the nine years of detention, offshore processing and medical neglect under successive governments.
The Albanese Government has inherited a cruel and broken system, however, there must be an urgent emergency evacuation of all refugees on Nauru to Australia, with the assurance they will not be held in immigration detention centres, including Alternative Places of Detention (APODs) on arrival.
ASRC caseworkers sent an imminent risk notification to Australian Border Force and IHMS a week ago and have not received a reply.
A refugee on Nauru said: "We are facing a terrible situation, we face mental health issues and physical issues. We have no life, no future, and no freedom here in Nauru. At this time it's lockdown on the island we can't go shopping, can't go to collect medicines and can't go out to attend Nauru Ron Hospital appointments and no public transport (island bus) are available now. When we call the case worker or case manager first they ignore our call then later they said we are not allowed to go out so we run out of food and we run out of health and everything. Please help us, take us from here as soon as possible, we can't take it anymore."
Jana Favero, Director of Advocacy and Campaigns at ASRC, said: "This is a wholly avoidable catastrophe. The refugees on Nauru are under the Australian Government's care, yet they have been abandoned. Offshore processing is a failed policy that has unnecessarily brutalised men, women and children, arbitrarily preventing them from safely rebuilding their lives. Many of the people currently on Nauru are waiting to be resettled in New Zealand and the US, there is no reason they cannot come to Australia during this time."
–ENDS–
Media contact: Sam Brennan 0428 973 324 or sam.b4@asrc.org.au
Leave a reply