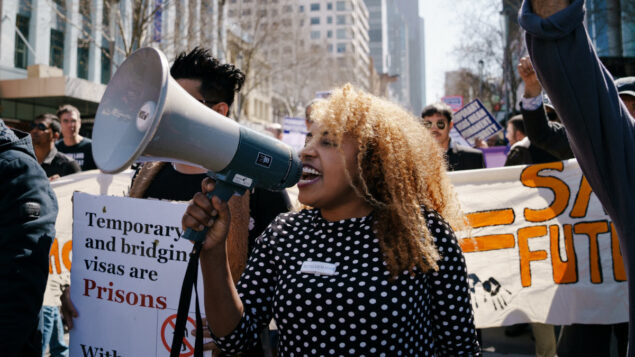 On July 19, 2013, then Prime Minister Kevin Rudd announced that people seeking asylum by sea would be prevented from settling in Australia and detained offshore, creating a cruel system propped up by successive governments. Below, Betelhem Tebubu, human rights activist and survivor of offshore processing on Nauru, writes about what this day means to her.
My name is Betelhem and I am a refugee. July 19 destroyed my life.
I was in Nauru offshore detention for two years and Brisbane detention regime for two years too and I was surrounded by lethal forces, my unarmed aspirations were shot.
Still, my spirit sank.
July 19 is a black day for me and other refugees who came after July 19, 2013. I lost all my dreams in those nine years.
During those times, I saw many young people who did not get the help they needed when they were sick.
I saw their pain, both mental and physical. I heard their cries for help. (I too cried for help.)
But what was even more shocking for me was seeing how our cries went unheard and how our suffering went untreated and still nothing changed.
The July 19 decision's lack of care was due to the Australian government, to the politicians who had chosen to block their ears to our cries for help.
Let me ask you something.
What kind of people refuse to hear the cries of fellow human beings in pain?
What kind of people refuse to be moved by the suffering of other humans?
What kind of people say no to helping a sick child?
They are the kind of people who are prepared to sacrifice the lives of innocent people for their own political lives.
They are the kind of people who choose to believe that refugees are not human.
They are the kind of people who use false and harmful labels to make other people fear and hate refugees.
They are prepared to make innocent people very, very sick, to even let innocent people die, because they can't think of another more humane way.
Because of July 19, there are still refugees on Nauru and in PNG right now still crying in pain and despair.
For apart from wanting with all my heart that my friends on Nauru and in PNG get the care they need, I recognise that I too am human.
And for me, the July 19 rule says "your suffering is more important, your health is not important".
July 19 says my LIFE has no worth.
And for me, July 19 rule tells me that the politicians in this country don't care and value our lives.
We need to change this horrible rule.
Leave a reply