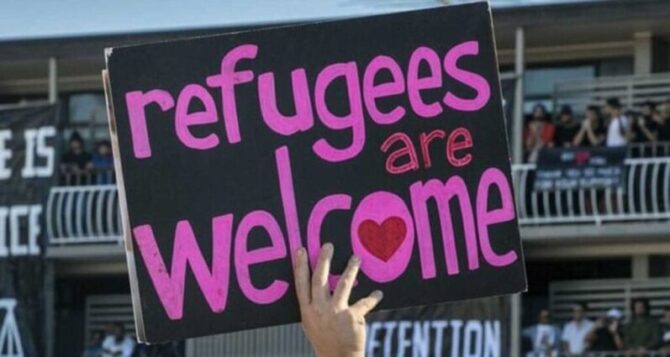 Media Release
19 July 2022
On this day nine years ago former Prime Minister Kevin Rudd announced that people seeking asylum by sea would be prevented from settling in Australia and detained offshore, creating a cruel system propped up by successive governments.
For the over 3,000 refugees subjected to offshore detention since 2013, July 19 marks the day they were separated from loved ones and denied a safe, permanent home.
Nine years since this disastrous announcement, there are still refugees held offshore in critical need of permanent resettlement, particularly as the COVID-19 pandemic strains already inadequate social and medical services for the around 110 refugees held on Nauru and 100 in Papua New Guinea.
There are also over 1000 refugees who after being held in detention centres both in Australia and offshore are now living in the community on punitive and harmful temporary visas, which deny them the basic rights to rebuild their lives.
For 14 people the conditions of detention have cost them their lives.
There have been positive developments over the last few years due to the advocacy and strength of those subjected to these cruel policies. With over 250 refugees released from Australia's network of detention centres since December 2021 and the resettlement agreement with New Zealand.
However, even when all resettlement places are exhausted there will still be hundreds left behind. There are also still 6 refugees held in detention centres around Australia who were evacuated from offshore for urgent medical treatment they are not receiving in detention.
The Time for a Home coalition of 140 organisations and community networks is calling for an immediate end to indefinite detention, permanent resettlement for all refugees and emergency evacuation of refugees on PNG and Nauru.
Betelhem Tebubu, human rights activist and survivor of offshore processing on Nauru said: "July 19 is a black day for me and other refugees who came after July 19, 2013. I lost all my dreams in those nine years."
"During those times, I saw many young people who did not get the help they needed when they were sick."
"I saw their pain, both mental and physical. I heard their cries for help. (I too cried for help.)"
"But what was even more shocking for me was seeing how our cries went unheard and how our suffering went untreated and still nothing changed."
"The July 19 decision's lack of care was due to the Australian government, to the politicians who had chosen to block their ears to our cries for help."
Thanush Selvarasa, human rights activist and refugee held on Manus Island, PNG, Mantra and MITA, released on 28 Jan 2021 said: "We're stepping into the tenth year of the devastating July 19 policy. Policy is meant to be made for the well-being of people, but this July 19 policy has destroyed our lives & continues to make us suffer. I can't see any humanity through this brutality put upon us."
"This is not good for people, it hurts us, for years we still have been fighting for freedoms and rights, and every human has a limited time to hold onto hope, but we have been in this for too long. We don't know when the next step is coming."
"The 19th of July is a remarkable day in our life. We have asked the same things year after year. People like me have a six-month visa, this Government could change one or two words in this visa, just to let us study, to travel, but there has been no change."
"Every morning I wake up and this is running through my mind, the solution is so clear. We can look after ourselves we just need permanent resettlement that is it! a permanent visa, that is it, that is all."
–ENDS–
Media contact: Sam Brennan 0428 973 324 or sam.b4@asrc.org.au
If this content has raised any issues you can call Lifeline on 13-11-14 for 24 hour confidential crisis support.
Leave a reply