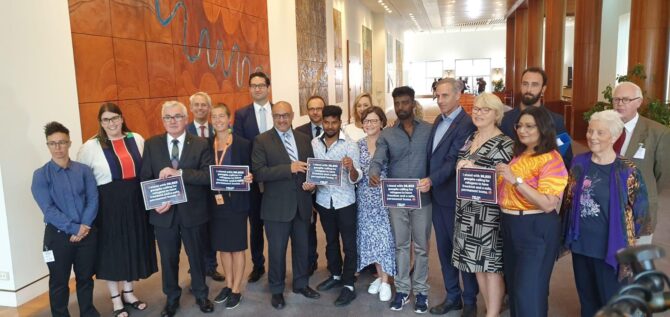 On 21 May, Australians overwhelmingly rejected the politics of fear and division, in the face of the former government's desperate attempt to divide our community by pointing the finger at refugees.
In his victory speech, Prime Minister Anthony Albanese pledged to "promote unity and not fear … optimism, not fear and division".
Now, with the 47th Parliament sitting for the first time, it's time to make sure the new government acts on their mandate from the Australian public for positive change.
As always the ASRC is heading to Canberra with people directly affected by decisions made in Canberra, to make sure they know the refugees at the end of their policies. We will use the fierce and fearless independence your support gives us, to amplify the voices of refugees and people seeking asylum and push hard for positive change.
The first 100 days are a critical time for any new government. Here are three steps the Albanese Government can take right now to make an immediate, positive difference for refugees and people seeking asylum:
1. Provide the right to work for all people seeking asylum in the community
Every day, ASRC staff and volunteers see the energy and determination of refugees and people seeking asylum to secure employment, develop professional networks or start businesses.
In 2020-21, nearly half of the people who found work through our employment program worked in industries facing the most staff shortages. But unfair, inconsistent visa conditions mean that many thousands of people seeking asylum are being denied the right to work while living as part of our community.
The new Government can help restore dignity and independence by regularising visa conditions to ensure all people seeking asylum have the right to work while in Australia.
2. Evacuate all refugees held in PNG and Nauru while they await permanent re-settlement
Nine years after our government forced them to brutal offshore detention centres, 216 refugees and people seeking asylum are still trapped in Papua New Guinea and Nauru.
In March this year, the former government finally accepted New Zealand's offer to resettle 450 refugees over three years. But after nine years of delay, the situation is critical.
COVID-19 has hit the tiny island nation of Nauru hard, leaving refugees stranded there struggling to access food, medicine and clean water. In PNG, Australian High Commission Staff have been advised to restrict their movements due to election-related violence.
The Albanese Government can bring an end to more than nine years of suffering and let refugees rebuild their lives by evacuating the 216 refugees stranded in PNG and Nauru to Australia, ensuring that they are able to live safely in our community while they await permanent resettlement.
Take action: Evacuate PNG & Nauru. Let refugees rebuild their lives.
3. Provide permanent protection and assess refugee status fairly
More than 19,000 refugees who have been part of our community for a decade or more are still living with temporary visas – known as TPVs and SHEVs – that separate families, rob people of stable employment and lock young people out of higher education.
The former government also stripped thousands of people seeking asylum of the right to have life-changing decisions fairly reviewed. Around 9,500 people seeking asylum failed by the former government's so-called, "Fast Track" process have been living as part of our community for a decade, with a further 2,000 people still waiting for their applications to be reviewed.
With simple amendments to the Migration Regulations, the new Government can restore permanent protection for all refugees living with temporary visas and allow people failed by the former government's flawed, unfair refugee determination process to apply for a permanent visa.
Leave a reply