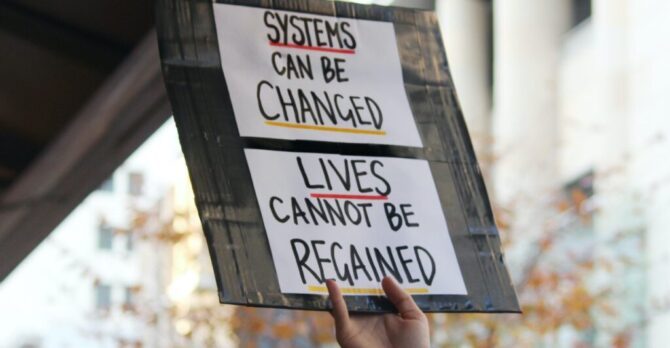 Media Release
1 August 2022
The Asylum Seeker Resource Centre (ASRC), welcomes the introduction of legislation in Parliament today by Independent MP Andrew Wilkie, seconded by Independent MP Kylea Tink, which would see an end to indefinite and arbitrary detention.
The Ending Indefinite and Arbitrary Immigration Detention Bill was first introduced by Wilkie in 2021, seconded by Independent MP Zali Steggall, under the Morrison Government. The Bill would mandate timeframes on detention, independent oversight, introduce minimum conditions of detention and make detention a last resort.
During a review of the legislation by the Joint Standing Committee on Migration ASRC joined hundreds of other organisations and individuals in supporting the Bill to combat the crisis in Australia's immigration detention system.
Australia has a uniquely cruel and harmful immigration detention system. Currently, the average number of days a person will spend in immigration detention waiting will be 700, up from under 100 in 2013. For people seeking asylum the average time spend in immigration detention waiting for a visa outcome is 925 days. This is compared to an average of 24 days in Canada, 43 in the United States and 29 in the United Kingdom.
The conditions in detention are dangerously inadequate, with 42 complaints of sexual assault against detention centre workers; 172 complaints of assault; and over 2,650 actual and threatened instances of self-harm since 2016.
Currently, there are around 1,400 people in immigration detention, hundreds of whom are people seeking asylum who previously held a protection visa or are in the process of applying for one.
There are also 6 people still held in detention who were moved from offshore detention for medical treatment, despite the Morrison Government releasing over 250 people in almost identical situations.
No refugees should be subjected to this cruel system, including the 216 people currently held offshore on Nauru and PNG, who must be immediately evacuated to Australia to reside in the community during their resettlement process.
ASRC will be in Canberra supporting this Bill and pushing for urgent reforms to allow people seeking asylum to rebuild their lives while being treated with respect and dignity.
Thanush Selvarasa, human rights activist and refugee previously held on Manus Island, PNG, Mantra and MITA, said: "Every policy is made by humans, even this brutal policy, and humans can change it. Maybe when people made it they don't realise how brutal and how many friends we will lose because of this, how many friends are physically and mentally hurt. I hope no one has to go through this unjust indefinite detention again, 10 years ago this policy was introduced and still, we are in limbo. This is so painful we cannot wait forever for resettlement, we cannot take any more pain in our lives."
Jana Favero, Director of Advocacy and Campaigns at ASRC said: "Our immigration detention system is broken and is in urgent need of reform. Families are separated. Refugees are suffering. Years are wasted. Once someone enters detention, it's like being forced into a labyrinth in the dark. Refugees don't know why they've been detained or for how long."
"It's time to put humanity into Home Affairs and we urge all Parliamentarians to support this Bill, release refugees and put an end to indefinite and arbitrary detention for good."
–ENDS–
Media contact: Sam Brennan 0428 973 324 or sam.b4@asrc.org.au
If this content has raised any issues you can call Lifeline on 13-11-14 for 24 hour confidential crisis support.
Leave a reply