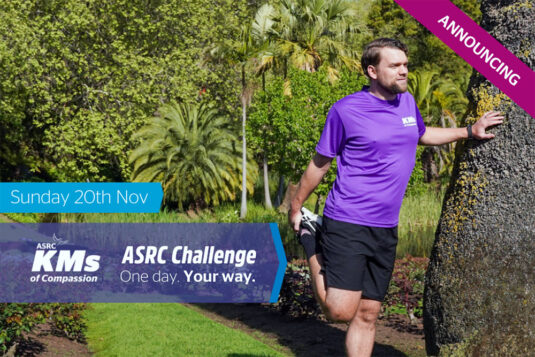 Every year, hundreds of people across Australia join together under the ASRC banner to clock up our Kilometres of Compassion (previously known as Run 4 Refugees), in support of refugees and people seeking asylum. 
Now – in addition to major running events like Bridge to Brisbane or the Melbourne Marathon Festival – the ASRC is offering a new way to challenge yourself and get your body moving for a great cause. 
The ASRC Challenge will take place on Sunday 20th November, 2022. Register today to choose your challenge and raise funds to power the ASRC's critical frontline services. It's one day, your way: https://kmsofcompassion.asrc.org.au/
Anyone can take part individually, or as part of a team. You decide how to move, and how far to go: you can walk, run, swim, cycle, skate, or dance – even push a pram! No matter your age, or level of fitness – everybody is welcome to join the ASRC Challenge. 
For example, you might choose to: 
Walk 10kms,

for the 1,000 people who access the ASRC Foodbank each week

Run 5.5km,

for the 5,500 health appointments the ASRC provides each year

Practice yoga for 119 minutes,

for the number of children the ASRC supports each week with nappies and baby wipes

Swim 514m,

for the number of people the ASRC provides housing for each year
It's simple: set up your fundraising page and choose your challenge. Then share it with friends, family or colleagues to meet your target. 
Register today for the opportunity to win some amazing prizes. This year, the ASRC has partnered with Velvet Canyon, to offer everyone who signs up before Friday 28th October the chance to win a $500 voucher. Stylish, cruelty-free and socially-conscious, Velvet Canyon generously donates 1% of online profits to the Asylum Seeker Resource Centre.
This is your chance to join a big community of people around Australia, and get moving for a great cause. No matter where you are, how far you go, or how you move – everyone can raise money for refugees with the ASRC Challenge. 
Rachel Werdin, who did a challenge in 2021, had this to say:
"It was a wonderful day out while raising money for a fantastic cause. Myself, my husband and our two kids (3 and 6 years old at the time) walked about 11kms along a nearby bike path and managed to raise almost $900.
Not only was it an opportunity to support an organisation that provides such significant support to refugees and those seeking asylum within our community, but also a great time to speak with our kids about issues such as displaced populations, multiculturalism and the need for more compassion in the face of politically expedient fear-mongering.
Even when those little legs got quite tired (as they did well before we reached our destination) what possibilities this created for reflecting on the extreme hardships so many others face in this world, and what an incredibly small sacrifice our exertion was in contrast.
We will definitely be taking part again this year, and are considering doing a bike ride just to mix things up. I am personally aiming to crack the $1,000 mark this time around!"
Right now, the contributions of people like Rachel couldn't be more critical. Despite the change in government, the ASRC estimates that at any given time, 1 in 3 people seeking asylum are still living with unfair visa conditions that deny them the right to work and rebuild their lives. 
The money raised from your ASRC Challenge will go directly towards providing food, housing, healthcare, education, employment and legal services – restoring dignity and hope for 7,000 people seeking safety each year. Collectively, we can empower refugees and people seeking asylum to live sustainably, independently and equally in Australia. 
Last year, we raised $130,000 in support of refugees and people seeking asylum. This year, we aim to beat that amount, making your impact greater than ever. 
So what do you say – are you up for the challenge?
https://kmsofcompassion.asrc.org.au/
Leave a reply