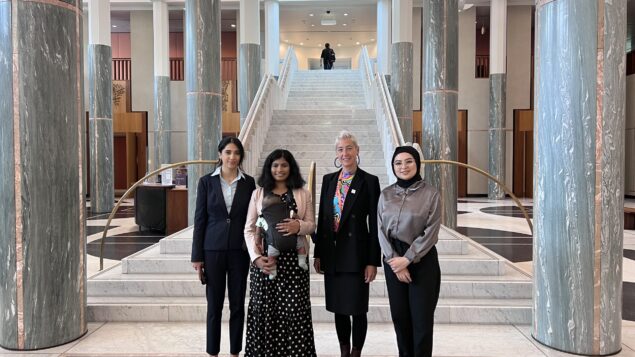 Media Release
25 October 2022
The Albanese Government won the 2022 election promising to provide permanent protection for refugees and people seeking asylum who are currently subjected to cruel temporary visas. After a decade of harm, refugees held on these visas need certainty and for the Government to act urgently on its promise.
There are 31,000 people who sought asylum by sea between August 2012 and January 2014, including children born to these families, who have been denied the ability to rebuild their lives in Australia. The time for action is now, with recent polling finding that three out of four voters from across the political spectrum support permanent protection for this group.
Instead, women, men and children who are part of the community have been forced through the so called 'Fast Track' determination process established by then Prime Minister Tony Abbott. This process is slow, defective, and has not provided procedural fairness for many subjected to it.
We welcome the government's commitment to abolish 'Fast Track' and temporary protection visas. However, the lack of a timeframe for when people subjected to this cruel system will be provided permanent protection is concerning.
As time drags on with no announcement, refugees are unable to properly rebuild their lives in Australia, and face significant barriers to access education, stable work and to see loved ones. The lack of an announcement or information has added significant distress to refugees in our community.
As of September 2022, there were nearly 20,000 living on Temporary Protection Visas (TPV) and Safe Haven Enterprise Visas (SHEV), around 1,900 people who are still at the review stage and close to 10,000 who have been failed by the 'Fast Track' process. All people need a place they can call home and there needs to be clear information on when this will happen.
Allegra Spender MP, Independent Member for Wentworth: "At the last election, the people of Wentworth and the Australian public at large rejected the politics of fear and division and called for a more humane and compassionate approach to refugees and people seeking asylum."
"Australia only benefits from the energy and strength that refugees bring to their new home, yet for a decade we have denied thousands the ability to rebuild their lives in the community. At a time of severe skills and labour shortages, it's also never been more important for our economy to end the uncertainty and ensure those owed protection have permanent rights to work and study."
"I welcome the government's commitment to abolishing harmful TPVs and SHEVs, but people cannot afford to wait any longer. Labor needs provide a clear timeline for permanent protection now."
Andrew Wilkie MP, Independent Member for Clark: "The treatment of people seeking asylum and refugees, by a succession of Coalition and Labor Australian governments, has been unconscionable, illegal, and absurdly expensive. The new Labor Government must seize this opportunity to go some small way to make amends by urgently delivering on its election commitment to grant permanent protection to the thousands of people seeking asylum and refugees currently stuck in temporary visa limbo. Anything less would make a cruel hoax of their election promise."

Kate Chaney MP, Independent Member for Curtin: "The 31,000 TPV and SHEV holders in Australia have been living in limbo for too long. For 10 years, these individuals have had no stability or certainty and have been unable to access the same education and work opportunities as their Australian neighbours and communities. I am pleased this cohort will be provided permanent protection under the current Government but ask Minister Giles to provide a timeline for this to happen, so that TPV and SHEV holders can stop living in harmful uncertainty and move on with their lives. This will also unlock the potential of highly skilled refugees to help fill Australia's skills shortages."
Zoe Daniel MP, Independent Member for Goldstein: "While the Albanese government's promise to end the inhumane limbo in which these people are forced to exist is welcome, the absence of commitment to a time frame is unsatisfactory.
"Apart from the obvious humanitarian factors, at a time of workforce pressures we need their skills and to allow them to fully participate in the Australian community to help ensure our future prosperity."
"The people of Goldstein and voters elsewhere in the country made it clear on May 21st that this situation must be brought to an end. It's time for timelines and action."
Betia, a law student on a SHEV: "We have waited for so long and we cannot afford to wait any longer. This is our life. Having a timeframe for when we will receive permanent protection is so important. We already feel part of this community and we want to contribute further, but the only way we can do this is with permanency. This is not just me, but all people affected."
"In the election, Labor said many times that they wanted to bring the community together. But when it comes to refugees and people seeking asylum, people who arrived here at the same time are being divided. The only reason for this is 'Fast Track', which Labor deems as slow and unfair. If the government thinks the procedure is wrong, then they cannot accept those decisions. We need an approach that works for everyone. We are part of the community, do not divide us."

–ENDS–
Media contact: Sam Brennan 0428 973 324 or sam.b4@asrc.org.au
If this content has raised any issues you can call Lifeline on 13-11-14 for 24-hour confidential crisis support.
Leave a reply