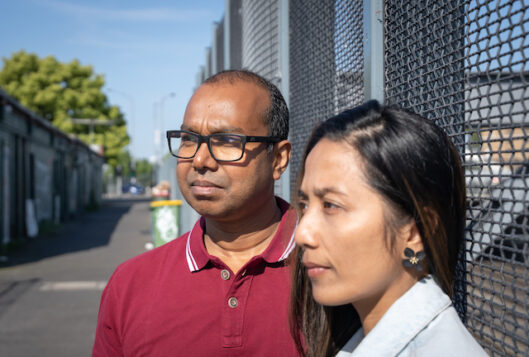 With the change of government in May 2022 came a glimpse of hope for people seeking asylum. Two of Labor's election promises were to provide permanent protection for refugees who are currently subjected to a cruel and protracted temporary visa system, and to create a fairer process for people seeking asylum. 
But as yet, there has been no move to deliver on these promises – despite strong public support for permanent protection across the political spectrum. As a result, many refugees and people seeking asylum are still stuck in limbo, separated from their families. Many people seeking asylum are denied the opportunity to work, study and rebuild their lives by accessing social safety nets like Medicare, . The effects of these cruel policies are felt most harshly by 31,000 people who sought asylum by sea between August 2012 and January 2014 – including children born to these families. 
In her recent Op Ed for John Menadue's Public Policy Journal, ASRC's Principal Solicitor, Hannah Dickinson, observed that "successive governments have left Australians with a chaotic, cumbersome migration system characterised by undue complexity and delay, with little funded legal support or information available to the community."
"They have manufactured insecurity for people seeking asylum."
Every day, Hannah witnesses first-hand the ways the current legal system is failing people who came to Australia in search of safety. For one thing, applying for a protection visa takes far too long. A backlog of more than 60,000 people are waiting for either an initial decision or a review of their case. Some have been trapped in uncertainty for as long as 10 years, as they await judgement from Australia's opaque and unjust refugee assessment system.
What's more, with application forms stretching to 36 pages, worded in complex legalese that proves difficult even for native English speakers to comprehend, people who seek asylum in Australia are confronted with a costly and demoralising process. When it comes to assessing applications for protection, the Department of Home Affairs and the Administrative Appeals Tribunal (tasked with reviewing decisions made by the Department) routinely get it wrong. 
If an application is refused, it does not mean a person is not a refugee, Hannah explains: "At the most basic level, visa refusal means simply that you haven't been able to satisfy strict criteria according to a particular decision-maker – not that you don't have genuine and reasonable fears of persecution."
Sadly, at least half of people seeking asylum in Australia navigate the application and appeals process unrepresented. Putting a lawyer on their side is one of the most effective ways of ensuring people seeking asylum see a fair fight in court. In a system riddled with biases and iniquities, having a lawyer makes you 6 to 7 times more likely to succeed. 
$75 can help make sure somebody seeking asylum can pay the fees our government charges to file an application for protection
The ASRC's Human Rights Law Program assists more than 1,000 people with free legal advice every year. Recently, the team has seen visa refusals overturned for women fearing gender-based violence from Ethiopia, Nigeria, Malaysia, Uganda, and Papua New Guinea. 
There have also been cases of LGBQTI+ people from Malaysia, Nigeria, Pakistan, and Iran, and for people fearing persecution for religion, race or nationality in Pakistan, Myanmar, and Afghanistan, amongst many others.
From securing releases from detention to winning permanent protection visas, lawyers in the ASRC's Human Rights Law Program work alongside people seeking asylum to get the best possible outcomes. With 31,000 people still trapped in uncertainty, the ASRC's legal team is determined to leave no one behind. 
Donate today to support people seeking asylum, and fund the fight for human rights.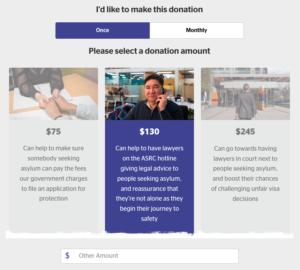 Leave a reply