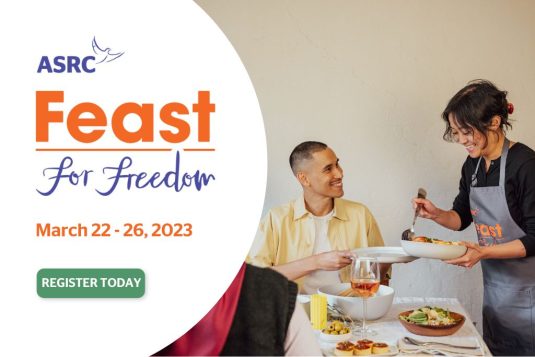 Good food brings people together. It has the power to unite people from diverse backgrounds as one family, one community, and one people.
That's the power of Feast for Freedom.
Every year, more than 1,000 people across Australia choose to celebrate what unites us, by hosting a Feast in their home, workplace, school, or community group. Feast for Freedom is a true celebration of refugees and people seeking asylum – their food, their culture, their stories and their contributions to Australian communities.
It's a dinner party with a difference, as guests are invited to make a donation to the Asylum Seeker Resource Centre (ASRC). All funds raised go directly toward providing vital food, housing and healthcare services, for more than 7,000 people seeking asylum, giving them the support they need to rebuild their lives on their journey to freedom.
Feast for Freedom is your chance to bring friends, families, or co-workers together around the table, and share a delicious home-cooked meal in support of refugees and people seeking asylum.
How to host your own Feast for Freedom
As an official Feast for Freedom Host, you'll invite your guests to come on a culinary journey with you, discovering new foods, cultures, and traditions. In return, guests can make a donation to the ASRC via your personal fundraising page, to help you reach your target.
After you register as a Host, you will receive a Kit with an exclusive Feast for Freedom Recipe Booklet, packed with delicious menu options that can be tailored to your guests' dietary requirements.
Refugee Cooks donated their recipes in 2023
This year's edition features a flavoursome Nigerian Feast, gifted by Benny, and an appetising Iranian Feast, gifted by Esmat – as well as some fan favourites from previous years. Learn to prepare creamy, nutty Egusi Soup from Nigeria, or festive Zereshk Polo Morgh – a traditional saffron and barberry rice dish from Iran, topped with a perfectly tender protein of your choice.
Your Host Kit will have everything you need to help you meet your fundraising goals, with stories and tiles for social media, templates for invitations and fundraising asks, and conversation cards to spark meaningful discussions among your guests about the challenges faced by people seeking asylum. It will also include some useful goodies for the kitchen, to help you cook up a storm.
You'll also have a chance to learn about  Benny and Esmat's experiences as refugees in Australia; how their respective cultures ignited their passion for food; the challenges they've faced, and their hopes for the future.
Above all, you'll be coming together with the people you care about to taste new cuisines, and connect with the stories and cultures of people who made the challenging journey to Australia, in search of safety.
Register today and receive a FREE signature tea towel with you Host Kit
Find out more or register today to host your own Feast for Freedom, and celebrate what unites us. 
Leave a reply