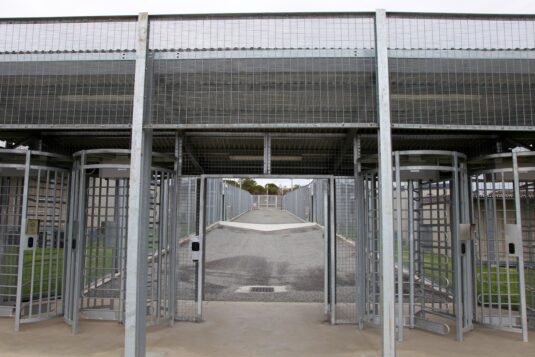 Media Release
February 8, 2023
The Albanese Government introduced legislation that will force people recently released from immigration detention, including people seeking asylum and refugees, back into detention, in an attempt to undermine a recent Federal Court judgement.
The Migration Amendment (Aggregate Sentence) Bill 2023 was unexpectedly tabled yesterday without consultation or prior notice to parliamentarians or legal and human rights organisations.
This legislation is plainly an attempt to subvert a Full Court finding from December last year. The Court in the Pearson case found that people cannot have their visas cancelled automatically and be held in detention based on an aggregate sentence of imprisonment of 12 months or more.
The Court reasoned that mandatory cancellation should apply in "only the most serious" cases, and that "self-evidently, an aggregate sentence may be arrived at after conviction of a series of lesser offences, none of which on their own could render a person liable to have his or her visa mandatorily cancelled." This Bill would reverse that clearly sensible position.
Worse still, the Albanese Government wants to apply this retrospectively, meaning that people who have just days or weeks prior been released by the Government and reunited with their families and communities will be forcibly taken back to detention.
It is disingenuous to suggest the Bill is necessary for public safety (or similar). Ministers and their delegates still have 'God-like powers' to cancel visas. Pearson merely limited the blunt instrument that is mandatory cancellation in its application to aggregate sentences.
The Pearson finding and the Albanese Government's harmful and haphazard response are indicative of a visa cancellation system plagued by inconsistency and cruelty. Human rights organisations including AUM Lawyers, Buttar, Caldwell & Co. Solicitors, Circle Green Community Legal, Liberty Victoria, National Justice Project, Sandpiper Immigration Lawyers, SCALES Community Legal Centre, the Southport Legal Service Inc, Refugee Council of Australia, ANZ Society of Criminology Thematic Group on Crimmigration and Border Control, Carina Ford Immigration Lawyers, Assent Migration, Abode Migration Lawyers, Women's Legal Service Australia, Russell Kennedy as well as the undersigned call for this legislation to be rejected in full and for meaningful reform to be pursued.
Hannah Dickinson, Principal Solicitor at the Asylum Seeker Resource Centre, said: "Unnecessary, cruel, politicised policy-making – and in particular, the retrospective overruling of inconvenient court rulings – is a hallmark of previous governments, an approach that has harmed thousands of individuals and families, eroded the rule of law, and left Australia's migration system in disarray.
To release and then re-detain roughly 100 people in the space of weeks is abhorrently cruel, and will devastate those people and their families."
Sanmati Verma, Managing Lawyer at the Human Rights Law Centre, said: "The visa cancellation regime is in crisis – it has filled detention centres to the brink and created a prison-to-deportation pipeline. It is time to stop the creep of these powers and reckon with their consequences, rather than patch them up and destroy the lives of 100 people recently released from detention."
Sarah Dale, Centre Director & Principal Solicitor at the Refugee Advice & Casework Service, said: "The last decade has seen an extraordinary creep of Ministerial and cancellation powers curtailing the rights and liberties of migrants and refugees. The Court made a finding of proportionate balance, it was a step towards a more humane system. This Bill returns us to perpetuating a system of abject cruelty, and not the promised restoration of justice we hoped from a change in Government."
George Newhouse, Director of National Justice Project, said: "After the last election, many Australians hoped that the Labor party would take a sensible position on deportations and not cave in to the conservative narrative about prisoners who have received short sentences (that is under a year), most of them are simply criminalised as a result of poverty or health issues. To make matters worse, the proposed law is retrospective which is an act of bastardry that will have a catastrophic impact on all those affected."
Dr Graham Thom, Refugee Advisor at Amnesty International Australia, said: "Despite commitments from the government to tackle Australia's unacceptable practice of indefinite detention, they have instead decided to introduce a Bill that attempts to overturn a decision of the Full Federal Court that saw a number of long-term detainees finally get released. The reality is that if this Bill passes, more people will be detained in contradiction of their basic human rights, and Australia will continue to falter on its international obligations."
Paul Power, CEO Refugee Council of Australia said: "The Labor Government was elected with a commitment to reform immigration detention and only utilise detention as a last resort. Unfortunately, this Bill does the opposite. We are disappointed to see the Labor Government introduce a bill that seeks to retrospectively re-detain people after a successful Federal Court challenge. The Minister for Home Affairs and the Minister for Immigration already have very harsh and punitive visa cancellations powers. These amendments are unnecessary and will lead to indefinite detention for refugees and other people at risk of return."
David Manne, Executive Director and Principal Solicitor of Refugee Legal, said: "This Bill is wholly unwarranted, draconian – and should be rejected. It would lead to the re-detention and prospect of indefinite detention of many people. It would continue the inhumane practice of tearing apart Australian families. Ultimately, these laws would undercut fundamental principles under the rule of law and human rights, endangering rights and lives."
–ENDS–
Media contact: Sam Brennan sam.b4@asrc.org.au or 0428 973 324
If this content has raised any issues you can call Lifeline on 13-11-14 for 24 hour confidential crisis support.
Leave a reply