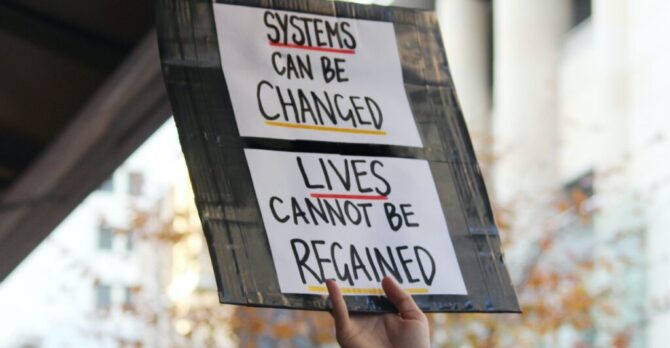 Media Release
February 13, 2023
The Asylum Seeker Resource Centre welcomes the Albanese Government's announcement that people subjected to the unfair 'Fast Track' process and currently on Temporary Protection visas (TPVs) and Safe Haven Enterprise visas (SHEVs), will have a pathway to permanency, a victory for refugees and people seeking asylum.
After almost a decade of suffering in the community, the Albanese Government has listened to the calls of the refugees who have struggled and now prevailed against an unjust system, and started to dismantle that destructive system.
The announcement, whilst an extraordinary and long-overdue win and a start toward restoring justice for refugees and people seeking asylum in Australia, has not provided adequate solutions for all 31,000 people subjected to the Fast Track system.
The Albanese Government's implementation of this announcement will be critical. It needs to be efficient, fair, and humane, and resolve the status of all 31,000 people as soon as possible.
ASRC is hopeful that this is the start of meaningful change for refugees and people seeking asylum in Australia.
Mohammad Daghagheleh, paralegal at ASRC currently on a TPV said: "There is a sense of future, there is finally hope, I am finally Australian. Before I was scared I was not going to get my scholarship renewed, but now I can study law."
"As a paralegal, I was helping people see their families but I could not do this myself. Now I can see my sister after 10 years, I can see her two kids. When something like this happens to you for 10 years, you don't think it will change."
"The Government has finally made the right decision. We have been part of the community for 10 years, we have shared our culture and our diversity. It is a sense of belonging I was struggling to find, without that piece of paper. "
Atena, human rights advocate currently on a bridging visa after being failed by the Fast Track process, said: "It is all so unclear, are we going to have our future here or be sent somewhere else? I felt awful this morning, our group chat is blowing up, and there is a fear we will be rejected."
"We have gone through so much trauma and hoped that a change in government would change things, but we need clarity. A lot of people in the public don't want to know what has happened over the last decade. It is a big shock to some that people who have been here for ten years are not citizens, my friends say I am more Australian than they are."
"People have been here for a decade, we need to remove the stigma around refugees, things are not okay. I was handing out flyers during the election but just because a new government came into power, all our issues have not flown away."
Betia Shakiba, human rights advocate and a law student on a SHEV: "I am feeling great. I feel like all the hard work of advocates has paid off and justice is served. This means that I can get a job in the future, I have always been excluded from participating purely based on my visa status. Now I know I will not be discriminated against and I have a real chance to succeed based on my capabilities."
"I want to thank the Government for treating us like human beings. It felt like we had been excluded from the system for 10 years."
Mehdi, human rights advocate, previously on TPV and applied for SHEV said: "I feel a sense of relief, this stress I just had, it is calmer this morning. Being 10 years in limbo and not fully accepted, or the sense that you do not belong to a community is hard. I will say that it has been alarming for me that over the last 10 years as humans, we did not always feel the pain of those around us."
"But now, I would love to apply for the army. I wanted to go to the military academy after high school, but I could not on a temporary visa."
"I came here as a minor and now I am an adult. I know that it will just be a piece of paper that changes, just like a name tag, but it will show I belong."
Hannah Dickinson, Principal Solicitor of the ASRC, said: "This is an incredible moment for the thousands of refugees who have spent a decade exposed to a senseless system that forced them to live in fear and uncertainty, separated from family, and subjected to endless, often hostile legal processes."
"Many of these groups will now have access to permanence: finally, security, and the recognition of their rights as refugees that will allow them to rebuild their lives."
"There are thousands of people seeking asylum and refugees who are excluded from this announcement but failed by the same system. ASRC will continue to advocate alongside all people seeking asylum to protect their rights."
Background
Around 31,000 people have been forced to go through the uniquely cruel 'Fast Track' visa status determination process, since then Immigration Minister Scott Morrison established the system in 2014. It has been a process plagued by delay and injustice, causing severe distress and hardship for those it has affected and their families.
People who have been through Fast Track and were provided TPV and SHEV will be permitted to apply for permanent Resolution of Status visas (RoSV) once the Minister lifts the bar preventing them from doing so.
The people who have applications for TPV and SHEVs with the Department will, if they meet the criteria, have their applications converted to applications for permanent RoSV. This process must be fast, efficient and trauma-informed after a decade of cruelty.
For more information please refer to the ASRC legal brief here.
–ENDS–
Media contact: Sam Brennan sam.b4@asrc.org.au or 0428 973 324
If this content has raised any issues you can call Lifeline on 13-11-14 for 24 hour confidential crisis support.
Leave a reply