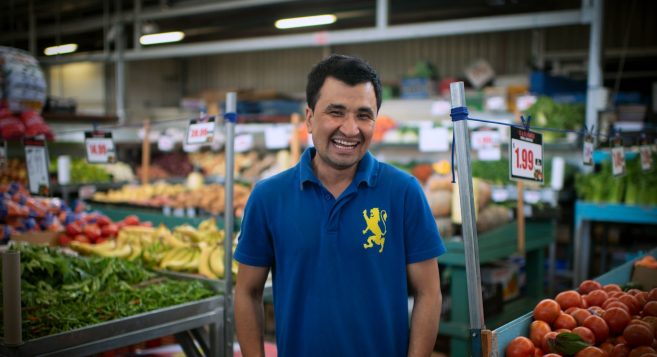 Media Release
18 April 2023
The Asylum Seeker Resource Centre, in a new report, is calling on the Albanese Government to restore the cuts made to social support for people seeking asylum as well as ensuring people have the right to work and study, as the Federal Budget nears.
A report released today, entitled Poverty Through Policy: The impact of excluding people seeking asylum from mainstream social support, details how the Federal Government, particularly the Morrison Government, has largely withdrawn from its crucial role in providing a safety net to people seeking asylum and ensuring people seeking asylum have the rights others enjoy.
Between 2016-2022, social support for people seeking asylum was cut by nearly 95%. Currently, only 2% of people seeking asylum have access to any form of social support and no one has access to the mainstream services others in the community rely on.
Furthermore, access to work rights and study rights are not guaranteed with 57% of the people accessing ASRC's services in 2021-22 without work rights and 66% without study rights.
With people seeking asylum waiting up to 8 years for their application to be reviewed and processed due to government delays and the cost of living on the rise, the situation is critical.
This upcoming budget is an opportunity for the Albanese Government to restore its role in providing people with support systems and ensuring rights, such as the right to work, others in the community enjoy.
Sol, a refugee previously held on Nauru and currently in Australia on a bridging visa said: "The whole experience of being on a bridging visa (BV) is traumatic. I have applied to over 150 jobs, I am very skilled, I was doing a degree and I have management skills. But most employers want people they can grow with and train over a long period, I get far in job interviews but then they see my visa will expire. We are also in this rental and cost of living crisis, very soon people will be homeless because we cannot find stable jobs. It is really hard for someone like myself, in the situation the government has put me in, to get a house.
We have dignity, we are human beings. We have been living a life of conditions, all we are asking is for control of our lives. We sought asylum we asked for help and safety, and after 10 years of zero progress, the only thing that has increased is our age and trauma. We were adults and can take it day by day, but now the trauma has been transferred to our children.
BV is a pain that never goes away, a pain that sticks with you. It is a circle you have to live within. The government taxes you but you have zero rights. I know people who have been on BV for years, BV holders are abandoned people, fourth or fifth-class citizens. I have been here five years and know Australians are beautiful people, but they don't know what is happening under their name. We are not asking for much, just to live like all other people and give back to the community."
Farid Ghalib, ASRC Community, Advocacy & Power Program graduate and Refugee Program Coordinator at Edmund Rice Centre on a bridging visa for 4 years, until 16 January 2023 said: "Taking the right to work, study and travel from people is a medieval rule and violation of human rights. It felt that I am living under the Taliban regime, not a democratic Australia. I don't understand what these inhumane regulations are trying to achieve. They are not only harmful to people seeking asylum but to the Australian nation as well. When people don't have any source of income to survive and no right to work, you're forcing them to be exploited, pushing them to live in an abusive and violent relationship and more importantly, wasting their potential to flourish, thrive and benefit the country's economy.
In addition, it is distressing to experience that the most productive years of your life are being wasted. It destroys people's mental health and isolates them from the community and social life. I urge the government to change these medieval policies and return people their dignity and human rights."
Jana Favero, Director of Advocacy at the ASRC, said: "People seeking asylum living in our community face unique challenges of poverty, discrimination and disadvantage, because of decisions by the government. While navigating the harmful, protracted system of seeking asylum they are abandoned on bridging visas, denied basic rights and forced into poverty and destitution through policy. This part of a dysfunctional system intentionally designed to punish and deter people, rather than provide safety and fairness.
For years the community has been desperately trying to fill the vacuum left by the Federal Government, but this will always be insufficient and the cost of living increases have made it untenable. The Albanese Government has the chance to not only reform the system but ensure people can have enough to cover basic living costs. Everyone needs the right to work and mainstream social support when times get tough, only the Federal Government can ensure this."
Read the report in full here.
–ENDS–
Media contact: Sam Brennan sam.b4@asrc.org.au or 0428 973 324
If this content has raised any issues you can call Lifeline on 13-11-14 for 24 hour confidential crisis support.
Leave a reply