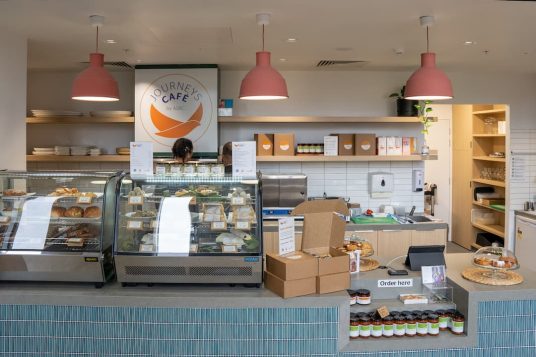 With the recent rise in the cost of living, food insecurity is becoming an increasingly prevalent issue among the student population. It is becoming harder and harder to find nutritious meals at affordable prices.
The Asylum Seeker Resource Center (ASRC) understands the importance of this issue. That is why our social enterprise ASRC Catering launched Journeys Café, which aims to provide affordable and tasty meals for the students at the University of Melbourne. At the same time, the Journeys Café also provides meaningful employment and training for its staff of people with lived experience of seeking asylum and provides them with a space to share their cultures, cuisines and stories with the Melbourne student community.
Journeys Café functions as a training space for people seeking asylum that are looking to enter the workforce. The staff are able to gain first-hand experience that will help them up-skill within the hospitality industry and from this experience, access new opportunities for further employment. The menu at Journeys Café is inspired by the staff's own recipes, cultures and previous food experiences, which means they are also able to utilise skills that they already own.
Bec, Retail and Hospitality Manager at ASRC Catering, is one of the many people that has helped guide Journeys Café from concept to reality.
"It was the University of Melbourne who approached us with the idea for something like Journeys Café" says Bec.
A pop-up held in December of last year proved that the collaboration could work, leading to the café opening at the start of the school year.
Bec is already impressed by the engagement university students have had with Journeys Café since its opening.
"Overall (the response) has been extremely positive. We published a social media post in conjunction with the University of Melbourne, and since then the response has just been overwhelming".
With food insecurity, a prevalent problem among students, and the cost of living continuing to increase, the fact that every meal available is under $10 makes Journeys Café one of the most cost-effective places to eat on campus.
Journeys Café has also provided a space for uni students and café staff to connect on a deeper level, says Bec "When people start talking, they might find out they have something in common – which then sparks a conversation."
Journeys Café is located on level four of the Student Pavilion Building at the University of Melbourne at Parkville campus – a space of calm and quiet where one can observe the bustle of the student precinct below.
Students can sit down to a warm soup at lunch, or run past to grab that all-important morning coffee. There is plenty of variety from week to week, with an emphasis on vegetarian and vegan options. There is even a "Wednesday experiment day, where it's up to the staff to create a unique dish for the day", Bec explains.
So if you find yourself at the Parkville campus, be sure to make a stop at Journeys Café. You'll find a space to reflect, recuperate and share in culture and conversation.
Most importantly, says Bec, is that attending Journeys Café means you are helping foster a space for people seeking asylum and refugees to learn valuable skills that will take them into further employment and beyond.
"It's more than just a cafe, you're helping someone's life get back on track."
Leave a reply