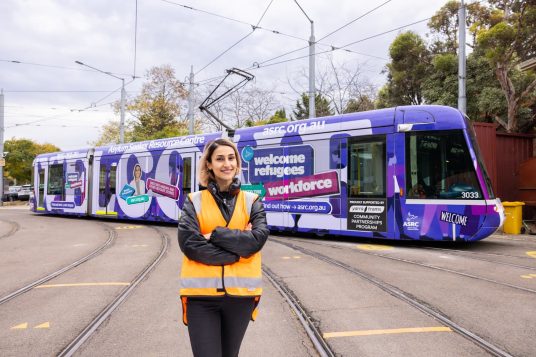 The Asylum Seeker Resource Centre's (ASRC)  Welcome Refugees into the Workforce awareness campaign calls upon the community to become more hospitable and conscious about the challenges refugees face when joining the workforce. 
The ASRC campaign champions the journey of refugees who have come to Australia seeking safety, bringing a lifetime of skills, education and work experience. The campaign also sheds light on the barriers many refugees face finding work: including unfamiliar application processes, language challenges, lack of local experience or contacts, employer bias or simply not having their overseas qualifications or work experience recognised in this country. 
The powerful message of welcome across the physical and digital campaign is supported by the Yarra Trams Community Partnerships Program. As part of that program the concept and the photographic portrait of Marjan, one of the refugee heroines, will feature on a wrapped tram that will travel on tram routes 48 and 109 in Melbourne for the next three months. 
"I felt like I had to start from less than zero – and that's only just starting to change. These jobs opened doors for me – and each new job added to my experience that gave Australian employers more confidence in me, and me more confidence in myself, " says Marjan.
The stories of the five heroes with lived experience – Marjan, Norman, Betelhem, Linda and Doreen, featured in the campaign this year are available at asrc.org.au/welcome/refugee-stories. 
"Many people have not had the privilege of working alongside refugees or someone seeking asylum, and there is a whole world of experiences and ways of working they can bring to the workplace that we could be missing", said Kon Karapanagiotidis, ASRC Founder and CEO. 
 The campaign also invites people active in the workforce like employees, employers, business owners, or anyone who has a say in hiring, to download this free resource filled with tips and information to implement on the job. 
The ASRC's 'Welcome Refugees into the Workforce' awareness campaign, with support from the Yarra Trams Community Partnerships Program runs from 30 May until 16 September 2023. The ASRC tram can be seen travelling on Route 109 between Box Hill and Port Melbourne and Route 48 between North Balwyn and Victoria Harbour.
For more information please contact Catalina Portilla
0405 704 988 | marketing@asrc.org.au
Leave a reply