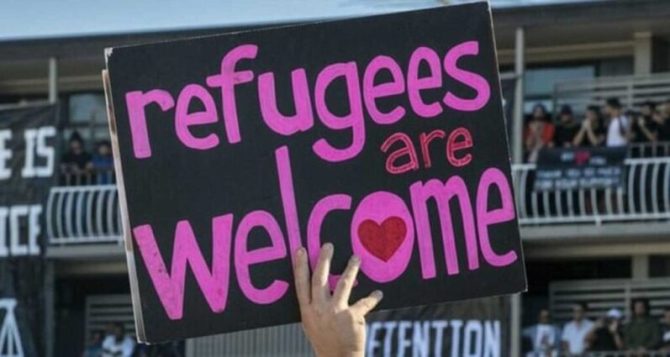 Media Release
25 June 2023
The last refugee held on Nauru to be evacuated to Australia after 10 years arrived last night, in a welcome and long overdue move for refugees. However, around 80 people still held in Papua New Guinea need urgent evacuation.
This is a testament to a decade of powerful resistance from refugees and the efforts of countless people to expose the harm caused by offshore detention.
Since July 2013, 3,127 people who sought safety in Australia have been taken to offshore detention in Nauru and PNG. Since this date, people have been resettled in third countries, hundreds were returned to the countries they fled and others remain in Australia after being transferred for healthcare. Eighty people remain offshore in PNG.
The refugees still trapped in PNG have been separated from family and friends and denied their freedom and safety for a decade. People in PNG need to be offered urgent evacuation to Australia to receive medical care and pursue permanent resettlement.
While there is no one currently held in a detention facility in Nauru the Albanese Government will continue to maintain detention facilities in the country, spending $486 million this year alone according to the Federal Budget. The Albanese Government also has an agreement with a for-profit prison company, MTC, to oversee the facilities on Nauru until September 2025 at a cost of $422 million.
At least 14 people subjected to offshore detention have died, many due to treatable illnesses, and everyone held offshore has endured a decade of human rights abuses.
After a decade of cruelty enacted by successive governments, people held in PNG need to be immediately evacuated to Australia. Everyone subjected to offshore detention needs safe and permanent resettlement.
Betelhem Tibebu, human rights activist and refugee previously held on Nauru said: "All my friends are so happy this week. We don't have to lose any more friends, people don't have to get sick, no trauma, and no fear. Nauru, it killed us mentally, for us Nauru is hell, where we lost our lives.
For ten years we have been so scared. Every six months when we renew our visa we hear that we can be sent back to Nauru. I never sleep peacefully because I worry they will take us back at night, not just me but all of us. I want everyone to know this is a fear for us. I am happy no one is there now.
They should not have left the person alone there on the island alone by himself, from thousands of refugees to one person, can you imagine? He is a hero. I swear, I am so happy everyone is released. That place should be closed, it is where so many young people lost their future. For 10 years that place for us was fear."
Thanush Selvarasa, human rights activist and refugee previously held on Manus Island, PNG said: "This is very exciting and happy news hearing no one will be on Nauru. I want to thank the people in Australia who spoke with us over the past 10 years.
But at the same time, it is sad, for 10 years my friends were locked up on that island. We have lost life, dreams and hopes. It is also sad because people have been in PNG for 10 years, I am one of them, I know how hard it is being in PNG, being speechless. People are already mentally and physically destroyed.
We can't accept any more pain in our lives we want to start our lives permanently, we cannot keep living temporarily, we would like to start our lives again. We came 10 years ago and still, we dont have freedom. No one should be treated like us when they come seeking asylum and safety. We are the victims of this policy but we are still fighting. We have lost 14 lives, no one should be lost again."
Jana Favero, director of advocacy at the Asylum Seeker Resource Centre: "Over the past decade our government stood by and witnessed abuse, assault, neglect, harm and suffering in offshore detention. Men, women and children sought safety and protection, yet we banished them simply for the sake of politics. We are thankful that the Albanese Government has taken action and evacuated the last remaining refugees from Nauru. One chapter of misery is over.
While we celebrate this day that politicians said would never happen, we will keep advocating until the same happens for refugees in PNG. The resilience, determination and action of refugees and the movement will continue for those in PNG. Whether people were sent to Nauru or PNG was arbitrary and those remaining in PNG must have the opportunity to be evacuated as those from Nauru. There is no difference in our moral duty to people who sought our help."
Marie Hapke, Australian Refugee Action Network, said: "Many Australians have looked in horror at the terrible suffering of those subjected to offshore detention in Nauru and PNG since July 2013, and have advocated for an end to this cruel response to people seeking safety and protection. While it is a great relief to see the last refugees brought from Nauru, those still trapped in PNG must be given the same opportunity. Having spent billions to hold people in PNG, the Australian Government cannot just abandon them there. Many need critical medical support – all need to option to come to Australia while resettlement options are found."
Ian Rintoul, Refugee Action Coalition said: "The history of offshore detention and human rights abuses on Nauru will forever stain the record of both sides of Australian politics. Though they committed no crime, refugees sent to Nauru lost ten years of their lives.
As long as Nauru remains 'open' and refugees remain in limbo in PNG, the dark chapter of offshore detention will not be finally closed. The last refugees may be off Nauru, but more than 80 refugees still in PNG need to be safely evacuated."
Scott Cosgriff, Senior Lawyer, Human Rights Law Centre said: "Offshore processing in Nauru and Papua New Guinea has inflicted untold suffering upon people merely asking for safety.
Getting people off Nauru is welcome and long overdue. Anything less than the same assistance for people abandoned in PNG is a profound failure. So long as people remain trapped where the Australian Government put them — living in fear, poor health and without any realistic future — they remain Australia's responsibility."
Sarah Dale, Principal Solicitor, Refugee Advice & Casework Service said: "Offshore Processing has been one of the most harrowing elements of Australia's Refugee Policies. It is unjust, arbitrary and an unconscionable response to people needing Australia's safety. Whilst we breathe a sigh of relief that those on Nauru have found reprieve for now, we cannot and must not ignore those left behind in PNG. We must bring an end to this policy in its totality. Justice will not be served until a permanent place to call home is found for all needing protection, and we don't rest until this is found."
Zaki Haidari, Refugee Rights Campaigner, Amnesty International Australia said: "We celebrate this day with the last group of refugees who have been evacuated from Nauru. They can finally receive the medical care they need. It is a step by the Government in the right direction towards treating refugees and people seeking asylum with dignity. However, we will be thinking of our friends who are still trapped in PNG and will keep advocating with them to be evacuated and receive the urgent care they need."
–ENDS–
Media contact: Sam Brennan sam.b4@asrc.org.au or 0428 973 324
If this content has raised any issues you can call Lifeline on 13-11-14 for 24 hour confidential crisis support.
Leave a reply