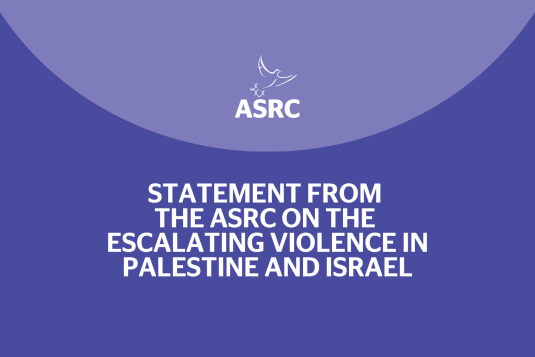 As the largest independent refugee charity in Australia, which will speak up when a refugee crisis is taking place and always stand on the side of humanity, we are profoundly concerned by the escalation in violence in Palestine and Israel, and the unfolding humanitarian crisis. We stand with all displaced people and victims of persecution and terror, and urge the Australian government to act immediately to prevent further loss of life, work towards a peaceful resolution in the region, and ensure safety and social cohesion in our local communities.
We see the horrifying impacts of human rights abuses, war, and displacement every day. For the past 22 years, we have walked alongside refugees and people seeking asylum, and have assisted people who have arrived in Australia from some of the most terrifying situations imaginable.
The horrific violence in Israel and Palestine has nevertheless shocked us with its intensity and escalation.
We, alongside many communities around the world and here in Australia, are deeply affected by what we are witnessing. Many of our clients, staff, volunteers, partners, and supporters have family and friends affected by the escalating violence on all sides. They are hurting, they are grieving, and they all want peace.
We are also deeply concerned by the potential for further loss of civilian lives in Palestine and Israel, the displacement of people, and a growing refugee crisis.
The UN's aid chief Martin Griffiths has called for those held captive to be "treated humanely" and that "hostages must be released without delay".
According to the UN, there are nearly 1.4 million displaced people in Gaza, nearly 600,000 of whom are sheltering in "increasingly dire conditions" in UNRWA facilities. UNICEF has called the child casualties "a growing stain on our collective conscience" and that "Gaza has become a graveyard for thousands of children" and "a living hell for everyone else". Children don't start wars, and we must put their safety and protection at the forefront.
UN Secretary-General António Guterres has called for an immediate ceasefire to end the "epic suffering" and UN Human Rights Chief Volker Turk has stated that the "imposition of sieges that endanger the lives of civilians by depriving them of goods essential to their survival is prohibited under international humanitarian law".
We stand with these organisations, along with our peers at the UN Refugee Agency (UNHCR), Refugee Council of Australia (RCOA), and others in calling for immediate action to end the violence and protect civilian lives, the immediate release of all hostages, an end to the humanitarian crisis, and the restoring of immediate access to water, food, electricity, fuel, internet, and medical supplies.
International law demands that civilians be protected in conflict at all times and on all sides. Always, the laws of war must be observed.
We strongly condemn the atrocities of Hamas on 7 October in killing and wounding Israeli civilians, including children, and the continued daily threat to the safety of civilians through rockets fired and those still held hostage by Hamas.
We also strongly condemn the atrocities of the Israeli Government in killing and wounding Palestinian civilians, including children, its destruction of public infrastructure, its attacks on refugee camps, and its denial of humanitarian aid.
The Australian government cannot abstain from its moral duty to uphold human rights and international law. It must act by pursuing any and all political and diplomatic solutions to ensure:
1. protection of all civilians;
2. an immediate ceasefire by all parties to end the rapidly escalating violence;
3. negotiation for the immediate and unconditional safe release of all hostages;
4. permanent and unrestricted access to humanitarian aid; and
5. renewed efforts towards a long-term diplomatic solution.
The sheer scale of the humanitarian crisis unfolding, which shows no signs of abating and which is at risk of rapid escalation, must be met with a proportionate human rights-based response. This must be led and funded by the international community.
During times of crisis and grief, we must remember our common humanity. We are seeing many parts of the world being flooded by a rising wave of anti-Semitism, anti-Palestinian racism, and Islamophobia, including here in Australia, leaving communities fearful for their safety.
We strongly condemn all anti-Semitism, anti-Palestinian racism, and Islamophobia. We stand with impacted communities, and call on the Australian government to ensure community safety and cohesion.
The Australian government and others around the world must also ensure the safety and dignity of all civilians, including those who have been displaced or otherwise affected by this escalation in violence. The impact of war and displacement is deep and generational. As an organisation that has supported refugees and people seeking asylum for the last 22 years, we stand ready to assist any humanitarian and refugee entrants brought to Australia as a result of the escalating violence.
As global citizens, we must now all come together to demand compliance with international law to protect all civilian lives and work towards peace that recognises our common humanity. We call on all to work towards the universal goal of safeguarding human rights. With our hearts broken but our spirit and determination stronger than ever, we pledge to do the same.
Kon Karapanagiotidis OAM
CEO
Asylum Seeker Resource Centre
Leave a reply