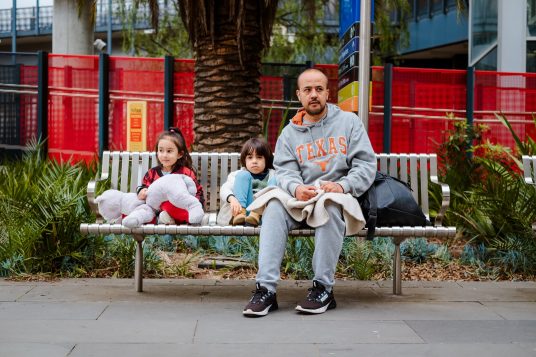 With the festive season fast approaching, our community of compassion is beginning to wonder how they can be more present for people seeking asylum and refugees in Australia.
Our supporter care line is flooded with calls of support every day and questions about how to get involved, so we wanted to make it easy for you by sharing a list of 5 ways you can help the ASRC shine a light of hope for refugees this festive season.
Before we get onto the list, here is why it is crucial more than ever for the community to show their support today and continue to stand with refugees and people seeking asylum:
Many people seeking asylum who use our services are entering this period still with no work or study rights or any sort of social security payments. How can they afford their next meal, rent, medications or specialists without an income?
While the last year has seen lots of changes in the policy space, people seeking asylum remain one of the most disadvantaged groups in our community with many of their rights still neglected by the government.
During this holiday, we can unite and channel the giving spirit by extending a helping hand to those who need a little extra hope.
1 – Donate to help families like Mauricio and Ani's
Fleeing persecution, Mauricio and Ani arrived in Australia with their two young children and a third on the way. Despite Ani's high-risk pregnancy, the family decided to make the arduous journey to seek safety.
Without any basic rights while they awaited the outcome of their protection visa, Ani's ongoing health concerns and two children under the age of six, the family relied on the ASRC to get their weekly groceries, some basics like nappies, public transport top-ups and phone credit, as well as subsidised medications and specialised medical care for Ani that otherwise they would not have been able to afford.
A donation to the ASRC means access to the essentials for Mauricio, Ani and their children, giving them hope on their journey to asylum. You can donate today to our Gift of Hope Appeal.
2 – Give gifts that do good
Another fun way to get involved is to shop for your pressies at the ASRC Shop.
The shop is filled with thoughtfully -and ethically- sourced gifts and wares, including collaborations with refugee artists and gift boxes that showcase flavours from the ASRC Catering's kitchen.
With 100% of the profits powering our frontline services and social enterprises, you'll be giving refugees and people seeking asylum the support they need to rebuild their lives safely and independently in Australia. [Shop now]
3 – Bring food items to the ASRC Festive Food Drive on Dec 3
The ASRC's annual Festive Food Drive is a fantastic way to donate tangible items to families who need support this season.
With the increase in the cost of living and people seeking asylum relying on the ASRC Foodbank, we are calling on our community of compassion to help us put food on the table for approximately 1,200 people each month who have no safety net and no other means of support in Australia.
Held on Sunday, December 3rd, in Footscray, it's a fantastic way to spread some community cheer. Find out more about the ASRC Festive Food Drive HERE
4 – Join our advocacy efforts and take action
Join the ASRC advocating and campaigning for systemic and policy change alongside refugees and people seeking asylum. Your voice can be added to actions that aim to see the rights of people who came here seeking safety, upheld and protected.
We know how powerful our community is and have witnessed the thousands of emails we can send to our local MPs working towards ending an unfair and cruel system. Click here to see the active actions available for the community.
5 – Help us spread the word
Helping to spread our message on different platforms, as we advocate and work alongside refugees, is an easy, but impactful way to help. During this season, we rely on the kindness of our community so that we can continue to do our work and support refugees and people seeking asylum.
Following our social media channels, interacting with our content, and sharing our posts all aid in creating lasting social and policy change. Facebook, Instagram, Linkedin or X (ex Twitter), what's your favourite platform?
Leave a reply