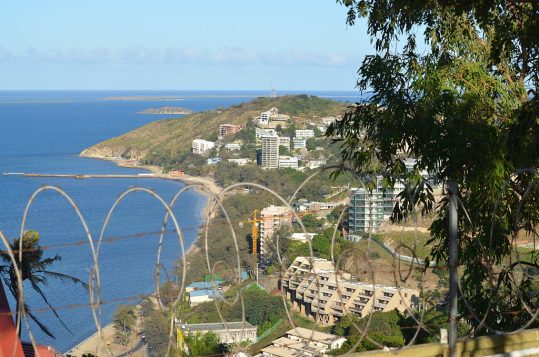 Media Release
Tuesday 21 November 2023
The Australian government must act immediately to evacuate dozens of refugees in PNG who will be evicted from housing and denied access to food and all medical assistance from this Thursday.
Tensions between Australia and PNG over lack of payment for service provisions have caused a worsening humanitarian crisis for the 62 refugees trapped in PNG, a group which includes 16 suffering acute health conditions and the wife of a refugee 12 days overdue to give birth.
A letter sent by seven current refugee service providers, states that due to non-payment by the PNG Immigration Citizenship Authority since November 1st 2022, refugees will be kicked out of housing and cut off from accessing all sources of support later this week.
After more than a decade of suffering from medical neglect, family separation, indefinite detention and ongoing uncertainty, services provided to the refugees have continued to deteriorate in recent months.
Refugees have reported living without food, electricity and access to basic essentials such as nappies for infant children. Chronically ill refugees have also had their lifeline to free health care cut off and are unable to access vital medications.
In October, Government officials in both PNG and Australia acknowledged 16 refugees needed urgent medical care and would be transferred to Australia, however Home Affairs officials would not confirm these plans during recent Senate Estimates.
This crisis is occurring in a context of frequent violent attacks, muggings, thefts and home invasions. Should the Australian government refuse to evacuate all people in PNG and provide immediate medical care and pathways for resettlement, the consequences for those facing eviction this Thursday will be dire.
Faisal Elzeiny, refugee in PNG:
"I don't know what I will do and where to stay. Me and my family will sleep on the street. I am very scared for my family because it is not safe if they kick us out from my apartment.
"The Australian Government needs to send all the refugees to Australia to get the proper treatment. Papua New Guinea is not safe."
Ogy Simic, Director of Advocacy at the ASRC said:
"For months, we've raised the alarm about how serious things have gotten in PNG for this group of refugees – in particular for those 16 refugees who are seriously unwell. The Government refuses to respond and won't confirm whether it will evacuate those refugees suffering health problems here for urgent medical treatment.
"Australia's duty of care to the refugees on PNG was well established in the secret agreement between the two countries, yet the government is blatantly putting 62 people at risk of homelessness and starvation by cutting off the funding that ensures they have a lifeline to survival in PNG."
Josephine Langbien, Senior Lawyer at the Human Rights Law Centre said:
"The Australian Government remains responsible for the lives and safety of the people it forcibly took to Papua New Guinea over 10 years ago, who are now facing the imminent loss of their accommodation, medical care and basic necessities.
"Every person sent to PNG has lost years of their lives because of the intentionally punitive policies of successive Australian governments. Now, in attempting to wash its hands of the situation it created, the Australian Government has exposed those people left behind to a steadily worsening crisis. Instead of doing secret deals to send more money to contractors in PNG, the Government must bring people to safety in Australia without further delay."
Ian Rintoul, Spokesperson for the Refugee Action Coalition said:
"The PNG refugee program has stumbled from crisis to crisis. There is no sign that PNG is willing or able to provide the safety and services needed. The Australian government has known for weeks that the funds for refugee services have gone, but it has done nothing to ensure the welfare and safety of the refugees stranded in PNG.
"To end this crisis, urgent arrangements are needed to bring all the refugees to Australia."
-ENDS-
Media contact: Melanie Drummond on +61 474 046642 or melanie.d@asrc.org.au
If this content has raised any issues you can call Lifeline on 13-11-14 for 24-hour confidential crisis support.
Leave a reply