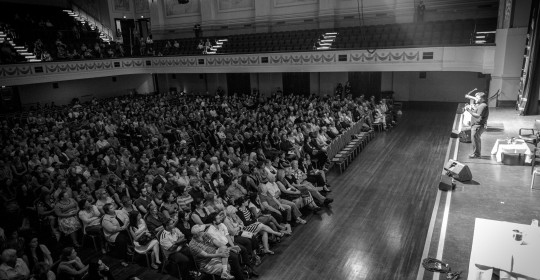 The Melbourne Town Hall was packed with wonderful and welcoming people for the latest ASRC Volunteer Information Evening.
1200 were in attendance and over 100 more watching via the live-stream on our YouTube channel to learn how to best help asylum seekers and refugees, and to listen to inspiring speakers including Malcolm Fraser and Nga Luu.
A running theme of the night was how much asylum seekers have gone on to achieve as Australian citizens.
"I received a call about the arrival of a boat and on that boat was the now Governor of South Australia" said Mr Fraser, referring to the Honorable Hieu Van Le.
Mr Fraser spoke harshly of current policy and the bipartisan support for what is the fundamentally unlawful treatment of asylum seekers and refugees.
Fraser's speech was rousing, calling on the current government to adopt a more humane approach and reminding us that a more compassionate Australia is possible.
You can watch the highlights of his speech below.
ASRC board member, businesswoman, and former asylum seeker Nga Luu had many in tears as she recounted her story of arriving by boat as a child with her family.
"I think of the desperation, courage, and love that drove my parents to seek asylum," she said.
She thanked Mr Fraser, who was in power at the time of her family's arrival, for "[seeing] this as a humanitarian crisis and not a political opportunity."
The event was hosted by comedian and author, Corrine Grant, who had her own powerful words to add.
"Nga Luu is what happens when we treat asylum seekers with dignity and respect," she declared to thundering applause.
However, the most potent part of the night may have been when ASRC CEO Kon Karapanagiotidis called for people to join in the #StandUpToProtect campaign. Suddenly the entire audience got on their feet in what may have been Melbourne's greatest mass-selfie moment.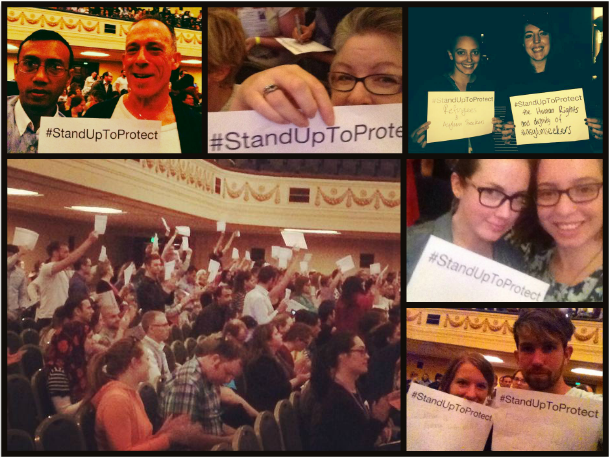 Through the campaign, we're aiming to #StandUpToProtect refugees against proposed new laws which will see people returned to harm and give the Government unchecked power to make life or death decisions.
People took selfies holding up signs with the #StandUpToProtect message. Social media came alive and the #StandUpToProtect hashtag began trending in Melbourne.
It was a truly inspiring evening. We want to thank everyone who attended or showed their support through social media.
If you wish to attend one of our volunteer information evenings please click here to express your interest. Information evenings are also the best forum for you to sign up as a volunteer.
Leave a reply